MEAN STREAK
SANDRA BROWN
Posted: Aug. 21, 2014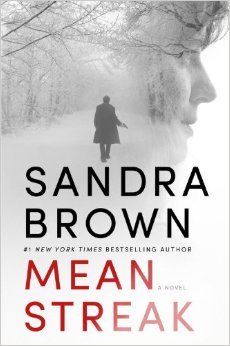 Dr. Emory Charbonneau, a pediatrician and marathon runner, disappears on a mountain road in North Carolina. By the time her husband Jeff, miffed over a recent argument, reports her missing, the trail has grown cold. Literally. Fog and ice encapsulate the mountainous wilderness and paralyze the search for her.
While police suspect Jeff of "instant divorce," Emory, suffering from an unexplained head injury, regains consciousness and finds herself the captive of a man whose violent past is so dark that he won't even tell her his name. She's determined to escape him, and willing to take any risks necessary to survive.
Unexpectedly, however, the two have a dangerous encounter with people who adhere to a code of justice all their own. At the center of the dispute is a desperate young woman whom Emory can't turn her back on, even if it means breaking the law.
As her husband's deception is revealed, and the FBI closes in on her captor, Emory begins to wonder if the man with no name is, in fact, her rescuer.
HUBBY'S REVIEW:
A story that begins with a doctor by the name of Emory Charbonneau and the lack of feeling between her and her husband Jeff Surrey. Yes it is explained the reason for the difference of last names but there is more the just the last names. He really does not like his wife. So when she ends up missing you get the feeling that he is behind it. She ends up going for a training run in a National Forest, she is training for a marathon. She starts the run but then wakes up in a stranger's cabin. This is really where a lot of the story takes place, for he will not tell her anything about him but he seems to know a lot about her. The more her ordeal goes on you begin to wonder who really did what to whom. There is another person that is brought in and she is not only a friend, but a partner in their business as well. She also has something to do with it. Just when I thought I had everything figured out the author troughs another twist into the story. this story has a lot of emotion and you get pulled in to the characters, you find yourself wanting to finish the page so you can move on to the next one and continue to see what will happen next. You really get caught up into the charters which makes for a better story. I really enjoyed this book. I got this book from net galley.