HARD RETURN
J. CARSON BLACK
Posted: Feb. 11, 2015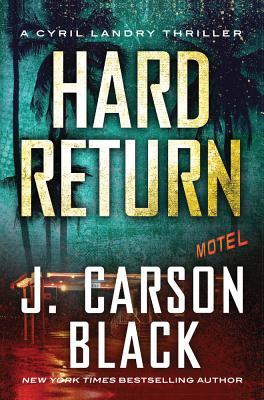 Cyril Landry has been a dead man since he escaped a firefight off the coast of Florida three years ago. In all that time, the former Navy SEAL has been living off the grid to protect his wife and teenage daughter, who have mourned him and moved on.
Five days a week, Landry watches from a distance as his daughter Kristal leaves school—his only chance to see her. One day a shooter in black unloads his M-16 on the students, killing eight kids—including Kristal's boyfriend, Luke. Landry takes out the gunman with a single sniper shot before melting back into the city. But this wasn't a typical massacre, and the clues add up to only one conclusion: someone knows Landry's alive, and wants him dead—again. Teaming up with Detective Jolie Burke—a homicide cop who plays by her own rules—Landry must find a way to protect his family, and avenge Luke's death.
In the second Cyril Landry thriller, black ops turn the world red.
HUBBY'S REVIEW:
This is my first time reading this author but certainly will not be my last. An excellent book with plenty of action, mystery and who done it to go around. Cyril Landry, is making sure his daughter and wife are safe, and one is showing up after school every day. This one day a gun also shows up and he does saves his daughter but he can't save some of the other children nor her boyfriend who actually protects her before being killed himself. That is when he makes a shot to take out the shooter. From there the story just takes off and you are in for a wild ride trying to figure out who is the person that is after him and his family. You have all of these people to choose from and the author does a good job in setting up the cast of villains but I was still surprised at the end. For that I must say this is one of the most under rated books so far. I have never heard about this book or this author. So take the time to read this book you will not be disappointed. I got this book from net galley. 5 Stars.