THE HISTORY OF ROCK 'N' ROLL IN TEN SONGS
GREIL MARCUS
Posted: Feb. 11, 2015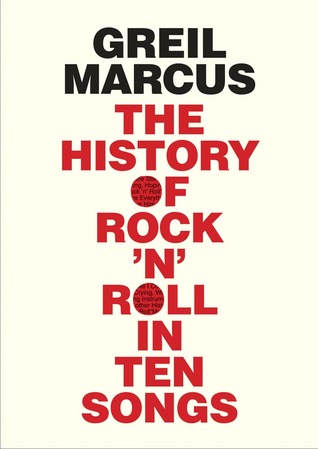 Unlike all previous versions of rock 'n' roll history, this book omits almost every iconic performer and ignores the storied events and turning points that everyone knows. Instead, in a daring stroke, Greil Marcus selects ten songs recorded between 1956 and 2008, then proceeds to dramatize how each embodies rock 'n' roll as a thing in itself, in the story it tells, inhabits, and acts out—a new language, something new under the sun.
"Transmission" by Joy Division. "All I Could Do Was Cry" by Etta James and then Beyoncé. "To Know Him Is to Love Him," first by the Teddy Bears and almost half a century later by Amy Winehouse. In Marcus's hands these and other songs tell the story of the music, which is, at bottom, the story of the desire for freedom in all its unruly and liberating glory. Slipping the constraints of chronology, Marcus braids together past and present, holding up to the light the ways that these striking songs fall through time and circumstance, gaining momentum and meaning, astonishing us by upending our presumptions and prejudices. This book, by a founder of contemporary rock criticism—and its most gifted and incisive practitioner—is destined to become an enduring classic.
HUBBY'S REVIEW:
The history of Rock N' Roll in Ten Songs, I thought I would give this book a shot not thinking you could pick ten songs. But after reading this book I got sort of what I think the author Greil Marcus, was trying to do maybe not. He starts off the book about how he decided to come up with this idea of ten songs and he takes you through his process of coming up with the book. Sitting at a diner in New York and hearing "Shake, Rattle and Roll", by Bill Haley and the Comets not by Big Joe Turner, who also wrote it. He heard other songs but the one that got me is "Dream Lover" by Dion, not Bobby Darin, there are many other songs but you get the point. For the most part this was a very entertaining book, I liked most of the chapters especially when he went more into the history of Chess Records, and the life of Buddy Holly, and young he was 22 when died in the crash and what might have been with him and of course Ritchie Valens, who was 17 at the. I would think these both would have still been big in the music field. His pick of Etta James and Beyoncé, was an interesting choice and though younger people would will listen to Beyoncé, I will always listen to James, hear voice was something else especially though Chess years and through the 60's. As for ten songs he picked ten and gave you a history beyond them which I thought was different. My one big complaint was it seemed that he somehow worked Bob Dylan into every chapter, at least it seemed like every chapter. Maybe he should write a book about him? Overall not a bad book a liked the history of the songs and some of the people. I got this book from net galley. 3 Stars.