THE PERFECT HOMECOMING
JULIA LONDON
Posted: March 7, 2015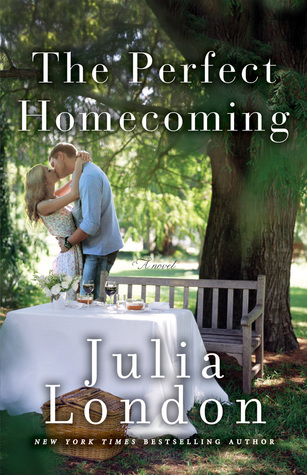 Emma Tyler's cool exterior and penchant for sarcasm keep most people from getting too close…and an unusual compulsion drives her to steal from the few men who do. When her trophy-collecting habit goes too far, she quits her ritzy event-planning job in Los Angeles and runs away to Pine River, hiding with her estranged half-sisters at Homecoming Ranch and caring for Leo Kendrick, her ailing friend.
Thrillseekers Anonymous founder Cooper Jessup has his hands full with work and his brother's looming prison release date. But when a client asks him to track down Emma Tyler to retrieve a stolen memento, Cooper can't turn down the money…or the chance to see the beautiful Emma again.
When Cooper comes to collect the item, Emma refuses to admit the horrible truth. This handsome man may see right through her steely veneer, but can he get close enough to show her how love and honesty can heal a troubled heart?
HUBBY'S REVIEW:
This is the third book in the Homecoming Ranch. Emmy, has come home to the ranch but not for the reasons her two sisters think. They are planning the wedding for Madeline and at the same time a stranger arrives looking for Emmy. He finds her and at the same time becomes friends with some people around town and some people she does not want him to be friends with. She wants him to go back to L.A. but he is not leaving until he gets from her what he came for. But he gets more than he bargains for when they fall in love with each other but don't know how to make it work. You still get Leo telling part of the story. One thing missing is not as many town people as in the last book. To me their seemed liked there were more characters but this was a very moving story especially the last half of the book. I do hope the author is going to write another one because there were a couple of things brought up but were never mentioned again, like Libby being pregnant. It seemed also that the three sisters were finally bonding and that was a good thing. A good book. I got this book from net galley. I give this 4 stars.