CRUSHED
LAUREN LAYNE
Posted: April 24, 2015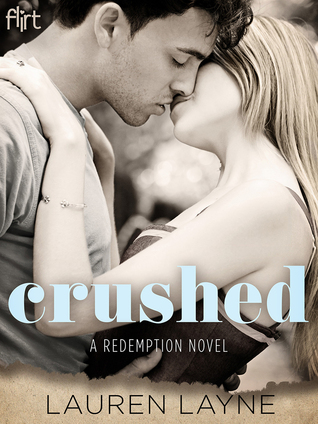 Lauren Layne's latest novel about the healing power of redemption tells the story of a crush gone wickedly wrong, proving that what you want isn't always what you need.

Growing up in New York, Michael St. Claire never expected to spend his twenties wearing cowboy boots. But that was before he learned about his real father, a total stranger with a family in Cedar Grove, Texas. Once in the Lone Star State, Michael meets Kristin Bellamy, who is exquisitely refined and everything Michael always thought he wanted in a woman. The only problem is that Kristin is dating Michael's new half brother, Devon.

Kristin's mouthy, curvy sister Chloe has always been in love with Devon Patterson. So when Michael offers to help Chloe break up Devon and Kristin, Chloe agrees to a deal that seems too good to be true. Before long, Chloe finally gets her man, only to make a startling discovery: She no longer wants the guy she had to fight for—she wants the one who stood by her side.

After all he and Chloe have been through, Michael swears he's damaged goods. Can Chloe convince him that love is worth the risk?
HUBBY'S REVIEW:
This story starts with Michael St. Clare, who is from New York and found out a secret about who is his birth father. That took him on a journey to Dallas, where he gets a job as a tennis pro, and trainer at a private club there. This is while he sorts out what he is going to do about his birth father and the family that he has. He does want to make things difficult for his would be half-brother by breaking up his relationship with his girlfriend, but that does not go as planned. Kristen the girl friend is totally looking at Devon. But Kristen's sister Chloe, who looks at herself as an ugly duckling. They strike up a friendship. He finds that he is attracted to her and is more and more attracted as she decides to work out and change her eating. Michael of course blows it with her when he needs to step it up and make a decision so she does the right thing and goes back to school to finish her degree and have fun in her senior year in college. While Michael, stays in Dallas and still figures out what he is going to do. For him it really is settled by other people with his birth father, but Chloe is a whole different matter. I like how the author has Chloe change from the beginning of the book to the end, but even as she changes her personality is still there as in the beginning. She does become more confidant so that when she tells the man she loves what she wants she is able to walk away when she gets know response. The author makes you want to turn to the end to find out what happens but don't, you will miss some good parts of the story and what ends up happening to her sister Kristen, whom everyone always thought had it together. A good book. I got this book from net galley. I give this 4 stars.