BLACK RAINBOW
J.J. McAVOY
Posted: June 30, 2015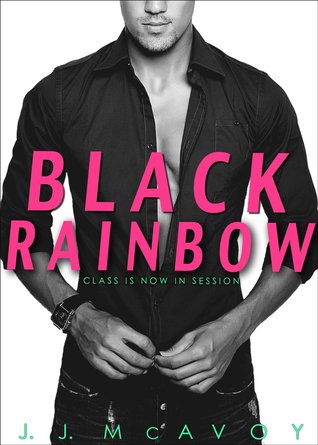 After an erotic one-week fling with a musician she meets in a bar,
Thea Cunning
never expects to see
Levi Black
again. Then Monday morning comes around, and she discovers that her former lover is not only her professor, but he's also one of the top criminal lawyers in the state of Massachusetts.
With everyone in class vying to be one of the twelve disciples—a group of twelve students that Professor Black takes under his wing—tensions run high. Thea considers dropping his class, given their passionate week together and their undeniable chemistry. After all, there are other (less infuriatingly sexy) law professors on campus.
But to accomplish her goal and get her father out of prison, Thea knows she needs to learn under the best of the best—and that's Levi Black.
But can she learn under the best, without being under the best?
HUBBY'S REVIEW:
Talk about a very passionate story, this is it. It begins in a bar where Thea Cunning walks in for a drink after her mother passes away. You find out more about her mother as the story goes along and she is not a nice person. That same night she meets a musician in the bar and they decided to go home for the night. The next morning they decide to spend an erotic week together and at the end of the week they just walk away and never see each other again. No numbers were exchanged or addresses. When he leaves at the end of the week she is wanting to ask him to stay but says nothing, and he does not want to leave. Now it is Monday and it is the beginning of fall semester at the University and Thea is sitting in her law class and in walks the Professor Levi Black, who just happens to be one of the top criminal defense attorneys in the country and more importantly the man that she spent the last week together with that she thought she would never see again. His class is one of the hardest and people who take his class want to be one of the 12. He gets his class down to 12 students and they work in his firm on cases and he feels that this is the best way to learn law is to practice or work on cases. His goal is to get people to leave and right away he gets part of the class to get up and walk out. His next goal is to get Thea to leave but as he starts in on her she bluffs her way to stay in the class by coming up with an argument because he was not specific on which case he was referring to. He gave her points in front of the class because of her argument and after a couple of weeks asks her and two other students to intern on a case he is working on. It is then that he finds out through his brother in law that she is the daughter of a famous judge and even a more ruthless lawyer than him. She even finds a piece of evidence that had been missed by his own team that wins the case for him. She then helps him in his next case as well. It is during this time that he is wanting to get back with her but she tells him no and then he finds out the meaning of Black Rainbow and what her mother was really like and what happened to her. As he wants to get close to her he also finds out that her father is in prison for a crime he didn't do and that her mother destroyed evidence. The story is full of emotion and you get caught up with the two of them and also with the two friends she makes from the class. I will say that towards the end something happens that he thought he was going to lose her and after that everything became clearer for the two of them. Though this book starts off with an erotic week and a few sex scenes it is really love story. This is a very good book. I got this book from net galley. I give this 5 stars.