CENTER ICE
CATE CAMERON
Posted: June 4, 2015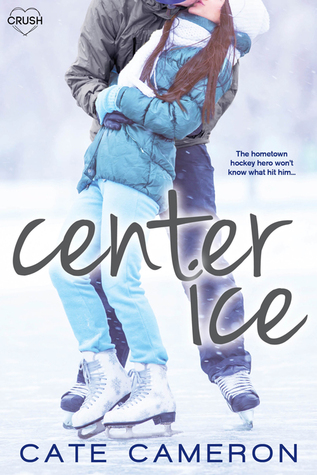 The hometown hockey hero won't know what hit him…
Karen Webber is in small-town hell. After her mother's death, she moved to Corrigan Falls to live with strangers—her dad and his perfect, shiny new family—and there doesn't seem to be room for a city girl with a chip on her shoulder. The only person who makes her feel like a real human being is Tyler MacDonald.
But Karen isn't interested in starting something with a player. And that's all she keeps hearing about Tyler.
Corrigan Falls is a hockey town, and Tyler's the star player. But the viselike pressure from his father and his agent are sending him dangerously close to the edge. All people see is hockey—except Karen. Now they've managed to find something in each other that they both desperately need. And for the first time, Tyler is playing for keeps…
MY REVIEW:
The pressures that teens are under are beyond crazy. But for Karen Webber her whole world had been shattered. You see her mom was in a car accident and the lingered in the hospital till one day she expired. Now like that wasn't more than enough for this 16 year old to handle now she had to go live with the father she never met and his perfect family.
Wait it gets even better because she has 3 half siblings 2 twin 18 year olds Matt and Miranda. Then there is Sara who is 14. So, yeah if you're doing the math she would be one of her father's marital oops! But he got caught. Right away Miranda disliked her with a passion. You can't really blame her because her father brings home the big city girl with a chip on her shoulders who wants to put him and as she puts it "perfect family" on the hot seat.
To get away from them and have private time she jogs just after the sun goes up in the morning. One of the days she gets attacked by a crazy squirrel who thinks she's a tree. When Tyler MacDonald sees the squirrel attack he yells at her to stand still but the feisty woman in her wants to say, "NO!" But when she thinks better of it… He comes over with a stick to get it off and she starts in, "Don't kill it!" At that moment there's a connection.
After that meeting he gives her a ride when she gets lost. He takes he swimming at his favorite spot at the lake, that he has never taken any girl ever. She hung out with him there all afternoon. Which was good because before she got lost she had overheard some girls that were friends of Miranda's that were in front of her in line at the store, talking about her and her family life. They mentioned how all the parents were wondering how many other kids of her father would come out of the wood works since he is such a man-whore. Tyler is very kind to her, open, and easy going. When there are quiet moments they weren't weird.
When he drives her home that's when it gets weird. She told him the address. He said he knew the street but she could point out the house when they got there. The thing was when they got close he had a really bad feeling. You see all her new family, except for her father was there. Plus her step mother's parents were there too. Tyler was on guard and asked, "You know the Beacons?" She just says it's a long story but yes and that was where she needed to be dropped off.
Karen couldn't even make herself look more presentable if she wanted to because she had gone swimming with her clothes on. So her dress and her hair was all wet and hanging long. As soon as Tyler drove off Miranda decided that she to be the spokesperson. She wanted to know what she was doing with Tyler MacDonald. She told her hanging out and swimming. Then Miranda yells at her saying that she was going to have a horrible rep hanging out with Tyler in his sex-wagon. Then she started talking about how she was set a bad example at her home and that she hadn't been living with them long enough to unlearn the "slut-washing."
Well, the gloves were now off. She just spoke about her mama. No one stepped forward to stop Miranda so then she remembered the girls at the drugstore and Miranda's friends. So, Karen says, "The example your father setting, you mean? Cause from what I've heard, he's the big slut around here. At least my mother wasn't cheating on a pregnant wife when she went slumming as you keep telling me."
So, the fight begins. Not only for a relationship with Tyler that Miranda couldn't make dirty, a relationship with her father and his family, but putting her mother's death in a place of less pain. I give this funny yet poignant story of coming of age and love 5 stars. Provided by Net galley.
Follow us at: www.1rad-readerreviews.com