WHEN THE CHIPS ARE DOWN
BETH RINYU
Posted: June 11, 2015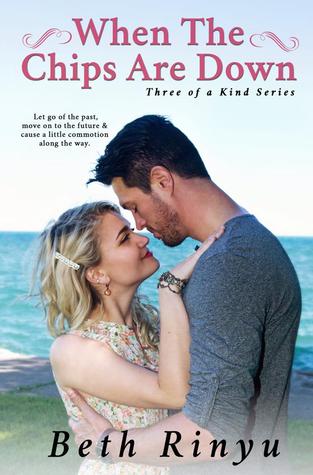 Melanie Hanson's life didn't go quite the way she had planned. Her cheating ex-husband traded her in for a newer model and she's in over her head dealing with the drama that comes along with raising her twin teenage daughters.
The last thing she is looking for or needs in her life is a man - or is it?
Ben Wilder is the boy that Melanie loved to hate throughout high school, the boy that all the girls loved and the boy that didn't give Melanie the time of day, unless it was to tease her. When she runs into him once again she realizes...he's not a boy anymore. Older and wiser, she's determined not to fall for her secret crush from all those years ago. But sometimes our heart has different plans than our head. Will she finally get her happily ever after with the man she least expected to have it with?
Take a humorous journey with Melanie and her daughters as their lives begin to parallel and they discover that although they may be separated by a generation their struggles are still the same.
*Book 1 of The Three Of A Kind Series
MY REVIEW:
This by far has to be one of the most enjoyable books I have read. This was so laugh out loud funny it made it effortlessly enjoyable to read. Each character has their moment at least once if not several times to take the lime light. Yet, there are some very tender moments that are so heartwarming that you realize just how truly gifted this writer is.
The story line mainly revolves around Melanie Hanson, 37 and her two twin daughters Gia and Carrie Maynard (16). Of course what would a special or should I say non-special appearance be by her ex Alec and his oh so young ex-mistress and now new wife and mother of his new bouncing baby boy, Amber, (24) be if not exciting.
Two years since her divorce and all she does is get up, get the girls off to school, work at her bridal salon (that she is part owner with mom,) come home cook dinner, visit with the girls and start all over again. The last 2 years they go to their dad's every-other-weekend and this weekend was extend due to vacation. So Jodi who has been her best friend since 6th grade books them a mini vacation to Cancun, Mexico. When you are with Jodi you never know what's going to happen this mini vacation was no exception. She thought that 2 years without my vajayjay being visited by anything other than my super powered shower head. They were going dancing and drinking.
It's all fun and games until you wake up next to the most gorgeous, muscled, and sexy naked man she'd ever seen. Damn he couldn't be more than 25. Oh no when she looks down she's naked too. She very gently gets up not to disturb him she gets dressed. She finds one of her shoes but can't find the other until she sees it under him… She can't believe what a perfect specimen like himself would ever see in a much old woman with, "Oh No! I had twin's scars!"
She's been home back in the swing of things when she goes into work her mom says she has someone in to fix that leak in the sink. Melanie goes to put her lunch in the refrigerator and she sees the guy under the sink and sees by his junk that that is not elderly Tony the man that normally does it.
As she goes walking back in the direction of the front of the store she hears this guy cussing up a loud storm. She laughs and says what happened to Tony? Her mom said he just sent him his nephew. What the heck is going on back there is all she could think of. Her mom goes down to the coffee shop to get them some coffees when she decides to do her makeup before the store opens.
When all of a sudden the guy sneaks up behind her making her drop her very expensive face powder. When she turns to scream at him her air is cut off and she can't speak. She knows him. He made her life a living hell, for two years in high school. Calling her, "Smellanie" OMG! None it's none other than Ben Wilder, (39), who sat behind her in French class. Seems he has no clue who she even is or was.
On one of her many calls throughout the day Melanie fills Jodi in on who and what the kids are doing. She tells her that she ran into Ben. It was the girl's weekend with their dad so Jodi said they were going out. Well, who do they run into? Ben and his friend Rick. By the end of the night Rick and Jodi were paired off and Ben and she were too. The affair started soon after hot and heavy. Ben is always holding back and never shows emotion. Other than when he's having sex. I mean no one knows he has a son for a while that in fact goes to school at the same high school as Melanie's girls.
Life becomes crazy when they realize their kids go to the same school. Events that happen are beyond funny. You will not regret reading this story. You will find yourself at times picking sides and then jumping sides. But all the time you know Melanie loves her girls and they love her. I give this 5++++ stars. Provided by Net Galley.
Follow us on: www.1rad-readerreviews.com