BROKEN
LAUREN LAYNE
Posted: July 13, 2015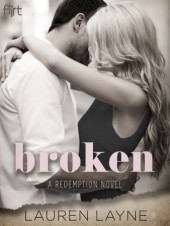 When Olivia Middleton abandons the glamour of Park Avenue for a remote, coastal town in Maine, everyone assumes she's being the kind do-gooder she's always been. But Olivia has a secret: helping an injured war veteran reenter society isn't about charity—it's about penance. Only, Olivia's client isn't the grateful elderly man she's expecting. Instead, he's a brooding twenty-four-year-old who has no intention of being Olivia's path to redemption . . . and whose smoldering gaze and forbidden touch might be her undoing.
Paul Langdon doesn't need a mirror to show him he's no longer the hotshot quarterback he was before the war. He knows he's ugly—inside and out. He'll do anything to stay in self-imposed exile, even accept his father's ultimatum that Paul tolerate the newest caretaker for three months or lose his inheritance. But Paul doesn't count on the beautiful twenty-two-year-old who makes him long for things that he can never have. And the more she slips past his defenses, the more keeping his distance is impossible.
Now Paul and Olivia have to decide: Will they help each other heal? Or are they forever broken?
HUBBY'S REVIEW:
This story has two people getting together that both need to be healed. Paul Langdon has been back from the war for two years but has isolated himself from everyone and everything since he has returned and will not allow anyone to see him except for his dad and the two workers at the house. He has gone through so many care givers that his father finally gives him an ultimatum and he finally agrees. Enter Olivia Middleton who has decided to take the job and not go back to NYU for her senior year. She does not realize how difficult this job is going to be but as much as they fight she does help him and he helps her. After the agreement is set and met from his father she tells him she is leaving because the healing that he needs now only he can do. After she leaves the few people that were still around him have all left as well and now being on his own for real he must decide to live in his castle or just to live among the living and be part of someone's life. This was very good book and the story takes you on many different journeys. A good book. I got this book from net galley. I give this 4 Stars.