THE V-SPOT
WENDY S. MARCUS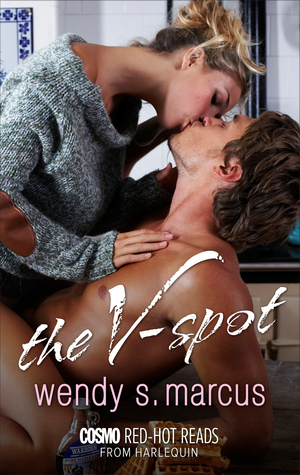 How hot is your night going to get? Take the quiz and find out!

1. You're a curvy, cute and practical nurse, ready to unleash your inner naughty nymphette for your 25th birthday. You start with...
a. Chocolate cake.
b. Champagne. Lots of it.
c. A blind date set up by your daring best friend.

2. Your guy turns out to be popular (and insanely hot) wrestler Brody "The Bull" Bullock. You...
a. Run for the door.
b. Admire his hotness, then run for the door.
c. Imagine him naked.

3. You're meeting Brody at The V-Spot, a "Voyeur Motel." What are you wearing?
a. A cute sundress with wedge sandals
b. You're not going anywhere without Spanx
c. Doesn't matter. Brody is sexy enough that it's all coming off!

If you selected all of the above, you're in for the night of your life....
HUBBY'S REVIEW:
The V-Spot is actually a voyeurism hotel and Emma Masters is there waiting for her blind date that her friend Sadie set for her on her 25 birthday. Emma is a Pediatric nurse in a New York hospital and she runs a tight ship, so when any stars or professional athletes come in they have to go through a series of tests first and then if approved she makes sure they wash their hands and put on gowns. The children's health is first and foremost. Waiting she is starting to get the feeling that she is going to be stood up when she is about to leave and she realizes who is walking through the door. Brody "the Bull" Bullock, the wrestler and one of the guys she deals with for the last year or so. Yes he is her date and though she tries to get away he will not allow it. He tells her that he had to go through Sadie or she would have never met him. Once they finish talking in the parking lot and some people take some pictures and say some mean things about her she begins to feel better once they are alone. They have one more run in with some people when they are walking outside by the windows before they decide to stay in and he begins to tear down her walls. This takes a little bit of time but he does make her feel comfortable and very sexy for the rest of the night. The night is great and she has had a fantastic time when he begins to talk about dating and she is all for it until the last words out of his mouth are not in public right now just us. He then goes to take a shower and thinks about the words and by the time he thinks of what he said he realizes she is gone. The pictures taken of them make the tabloids and she does not answer or return any of his calls. By the third week the wrestlers are back for a visit and she thought she had it worked out for Sadie to handle them but she gets called away. Not wanting to see him she does everything to avoid him and begins to think he will not show up until at the very last he comes in with a bouquet of chocolate covered strawberries and starts to break her down. She realizes that he really does want to be with her and that they both need to communicate better. This is a very good story, a fast read and does have some erotic parts to it, but overall a good book. I got this book from net galley. I give this 5 stars.