STEPBROTHER, MINE #1
OPAL CAREW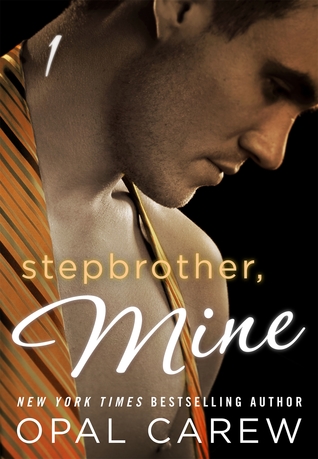 Dana's always had a clear vision of what she wanted out of life. But when her father dies during her final year of college, Dana's whole world threatens to topple down. In desperate need of money, she comes up with an idea. It's scandalous. It's HOT. And it's got everybody talking. . .Is Dana really going to auction off her own virginity? And at what cost?
MY REVIEW:
The title alone makes the idea of the story more salacious than it actually is at least in this portion of the book as a whole since it is three parts. Not saying it doesn't have the potential considering under the circumstances the two main characters meet. Their parents are both winners as parents, NOT!
It opens with Dana finding out that her mother will no longer be funding her college education. She feels she doesn't need a master's degree. Being she can no longer cry on her father's shoulder since he has passed away she uses her roommate, Elli's. Elli comes up with a quick fix of using her "V-card."
You see there is this agency that has a website where women can sell their virginity (V-card) for $50,000.00. It's all done with lawyers and the whole thing. Well, she goes along with it and knows she can back out at any time. When she gets an emails within days she can't believe it and panics. Elli says where else is she going to get that kind of money? Elli said not to mention that when she had given her V-card up it was to some guy who didn't even matter and was a jerk.
Dana had hoped her first time would have been special and with someone she loved. Yet, she knew that was taboo a long time ago not to mention he had abandoned her a long time ago without even a goodbye. Mason had been her much older (his 26 to her 16) stepbrother for all of two years. Before her mother moved on again and again… He had been so kind, loving, funny, and caring to her. That she had mistaken it for more. She had idolized him. He was handsome sensitive by paying attention to her and he actually cared about her.
So, imagine her surprise when the limo driver escorts her to an elevator gives her a private passkey to the penthouse, and she walks in to an empty place. Only to be surprised moments later by a voice of a ghost of the past. When she turns there stands Mason. Then it becomes all too clear that he was the one that bought her virginity. She thinks it won't be that bad…
Only to find out he's not going to act on it he plans on just out and out give her the money. Talk about a slap in the face. She says NO!
Watch as these two maneuver a new relationship as adults. One is holding back a secret that can blow it out of the water. But what disappoints me is it leaves you not in a clean end but it feels undone. Because I know there are parts 2 & 3 I give this 4 stars because I know about the other books. 3
½
because I hate midstream cliffhangers. Provided by Netgalley.com. Follow us at: www.1rad-readerreviews.com