MAKING A PLAY (HOMETOWN PLAYERS #2)
VICTORIA DENAULT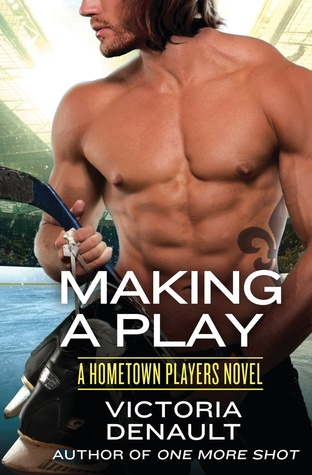 He'll do whatever it takes to win—on and off the ice.
Luc Richard is the hottest player in the NHL—and it has nothing to do with hockey. His racy relationship with his supermodel ex set the tabloids on fire but nearly put his career on ice. To avoid being traded, Luc agrees to take a break from the spotlight—and from women—and spend the off-season at home in Silver Bay, Maine. It's the perfect plan... until he reconnects with Rose.
Rose Caplan is tired of being shy, sweet, and safe. She's ready for passion, romance—and Luc. Having loved him longer than she can remember, she's finally ready to prove she's not the same innocent little girl he once knew. Off the ice Luc doesn't do games, but this new Rose makes him feel like playing a little dirty. If he's really got a shot at her heart then he's not just playing to win. He's playing for keeps.
HUBBY'S REVIEW:
Luc Richard, is home for the time being in Silver Bay Maine. There for a couple of reasons besides a weeding he is in and trying to stay out of the public eye especially now that he has broken up with his supper model girlfriend. Now he focus on hockey once again he hopes until he sees Rose Caplan, who has always liked Luc but he kooks at he as a sister, even though they grew up together he still calls her little Rose. Now graduated from college and going to be 22 she wants him to look at her as a women. So she has to step up her game at the same time that he has sworn off women in order to get focused just for hockey and making a run at the cup. She stops wearing close that hide her body and it starts when they decide to go to the lake and she wears or is barely wearing a bikini and it is driving him crazy. The day at her job when some college guys flirt with her that pisses him off as well. But the real kicker is when he runs into her at a different bar and there are different guys wanting to dance with her and one in particular she figures why not until he shows up and gets rid of him. Deciding he wants her and she wants him they decide to see each other but quietly. This works for a while until the charity event that she had been helping him is about to begin and he does not want them together for fear of photos and because of one photo got out and the team is now trying to trade him. She does not talk to him for days and shows up at the event and when he does not stop one of his hockey buddies from flirting with her she gets upset and leaves. Telling him she can't do this anymore. That night he leaves her a message on her phone but her phone was off. Hearing it in the morning she races over to his house to find him in bed with another girl. Heart broken she takes off and does not speak to him for weeks. The problem for him is that all of their friends and family are the same so he is on the outs all around. This is a very emotional story with many different topics. Like her first book you wonder if they can get back together or not. Not going to say read the book. You do not need to read the first book to be caught up though that is a good story as well. I got this book from netgalley. I give this 5 stars.