SINNER'S STEEL
SARAH CASTILLE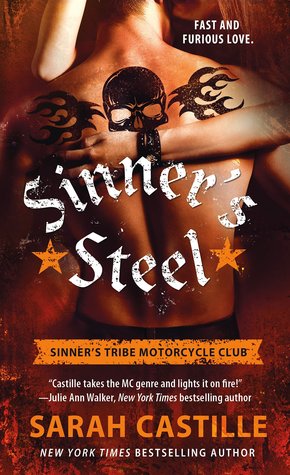 HE'S HELL ON WHEELS.
Tall, dark, and dangerously handsome, Zane "Tracker" Colter is the strong, silent type of tattooed muscle biker who drives women wild. But as a master of strategy for the outlaw MC club, Sinner's Tribe, he doesn't have time to play around with groupies and biker chicks-especially when he can't stop thinking about Evie, the girl who got away...

SHE'S PLAYING WITH FIRE.
Evie's been in love with Zane ever since they were children-until he broke her heart and disappeared. Now he's back in her life, bigger and badder than ever. Zane is stunned by how beautiful and confident Evie's become, using her artistic talent to customize motorcycles. He wants her so bad, he'd ride through fire to win her back. There's one problem: Evie is dating his deadliest rival-the leader of the Black Jacks-and if Evie and Zane hook up, there'll be hell to pay...
HUBBY'S REVIEW:
Zane Colter is a biker in a motor cycle club. For the past eight years he has thought about the person the girl that got away, Evie. Evie, Zane, and Jagger were always together when they younger and Zane would always look out for her. Finally her senior year they decide to take their friendship to a relationship only to have her father who was the sheriff catch them and later that night her father ends up dead along with Zane's father and the warrant was put out for his arrest, so he left. He comes back into town three years later to find out that she is married and has a child and her promise of waiting for him was not to be. So now here they are following a guy who has betrayed their club and they are at a paint shop and who is there but Evie, who is now part owner and the main painter of the custom paint jobs. The big problem is that she is going out with the other motor cycle clubs president named viper. She is looking at her third date she is liking the thrill or the thought of thrill. Only to find out that Zane and Jagger are there and they both are with the Sinners. Zane becomes obsessed with finding out about all he can about Evie, she was not wanting him around but part of her was still attracted to him. Weeks go by and he is still putting himself into her life only to find out that they both needed to talk and she starts to find out things about him that still draw him to her. He also finds out the boy he saw is actually his and that adds a whole other layer to the story. Besides the story between the two of them there is the fighting between the clubs and the threat to her and her friends and her son and her business gets destroyed and she has to come to terms with what is going on. Zane does the same thing by turning himself in from years ago after hiring a lawyer to try to clear his name. This is a good book with a lot of action and enough sex to keep everyone wanting to turn the pages. Overall a good book. I got this book from netgalley. I give this 4 stars.