SUGAR'S TWICE AS SWEET
MARINA ADAIR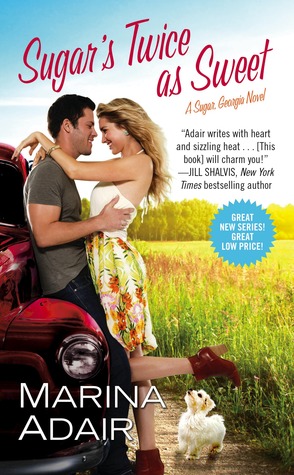 He's trouble she doesn't need . . .
Thanks to a cheating fiancé, Josephina Harrington's perfect life just crashed and burned. Moving in with her overbearing parents is definitely
not
an option. No, she needs to prove she can make it on her own. And she will-by turning her great-aunt's old plantation house into a destination getaway. She's just not expecting her contractor to be so hands-on-and so totally irresistible.
. . . but everything she wants
Bad-boy golf champion Brett McGraw figured his hometown of Sugar, Georgia was the perfect place to lay low and get his life back up to par. The leggy blonde with a pint-sized pup is the kind of sweet 'n sassy trouble he never saw coming. She doesn't know a nut from a bolt and before long, he's renovating her house . . . as she steals his heart. Can he convince Josephina that his womanizing ways are in the past and he's ready for forever?
HUBBY'S REVIEW:
Josephina after being embarrassed but really wanting to make her marriage more exciting leaves the plane that they were on and as she pulls herself together she is also dealing with the affair that her husband has been having with his assistant. Her mother thinks that what she is doing is wrong and so does her father, but no one is giving any support with her feelings. She finds out that her parents knew that the husband was going to ask for a divorce before her. Feeling her life is out of control she decides to go to Sugar Georgia where she has happy memories of spending time with her great aunt. Her idea is to fix up her place and turn it into a 5 star hotel with boating, fishing and an excellent kitchen because that is her specialty. She meets Brett McGraw on her way to the house and they take an instant liking to one another. She also has a cousin and some friends in town that help her and give her support. These people do more for than anyone else that are supposed to be part of her family. Though at times the older ladies with the guns and their hi-jinks are funny after a while for me I took this as just people being mean and trying to hold onto the past. It felt like as much as she was helping the community and then Brett with a fund raiser all they wanted to do was make her life more difficult. Not really any southern charm, or hospitality until the end of the book. The younger people were friendly than the older friends of her aunt. That really was difficult for me but I did like the story between her and Brett and how they worked with each other to help the other one get through their past so they could work on being together. She also stood up to her ex which was good. A good book. I got this book from netgalley. I give this 4 stars.