WHEN WE FALL #2
MARQUITA VALENTINE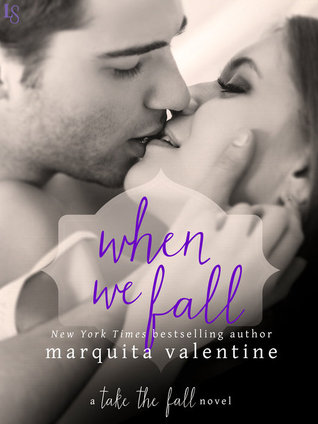 The last time Piper Ross saw her best friend's sexy older brother, Jase Simmons, he was being taken away in handcuffs. Seven years later, two things haven't changed: Piper is still head-over-heels in love with him . . . and Forrestville's chief of police—Piper's dad—still hates his guts. So when Piper sees a chance to get close to Jase, she makes her move—literally. As his new roommate, and as the office manager of his tattoo shop, Piper won't be satisfied until Jase knows that she wants to be his.

The quintessential good girl, Piper is pure temptation for Jase. The only reason he's always kept his distance is because she's the last person he'd ever want to hurt. But once he realizes that Piper is ready to take the leap, everything just makes sense. Suddenly Jase feels like a new man—until nasty rumors start swirling and Piper's heartless father stirs up even more trouble. Now Jase must convince Piper that she wasn't wrong about him . . . because falling in love never felt so right.
MY REVIEW:
Just because someone comes from a down and out side of the street does not make them bad. Those around them with or within their own homes teach them how to act that way. If no one within your home was able to set a well-balanced set of guidelines for you to follow when what chance do you have of not acting out? I will give you that there are those that are born with a sense of entitlement and that comes from both sides of the tracks and that no matter what can get anyone in trouble.
Such is the case of Jase Simmons no he never felt entitlement that's for sure but he never had guidance. Jase's mom had started hanging with the wrong crowd and overdosed rather than care for his sister, Rowan and him. His father bailed with it just got to hard but he did leave him the family home with money in the bank for the upkeep of the house for repairs since the house was paid off and the land.
Jase was already seventeen living in the fast lane. Partying, drinking, and sleeping around with daughters and their mothers sometimes. Yet, through all that he took care of his baby sister Rowan two years younger than himself, 14.
When he was a senior and Rowan a freshman she introduces him to her best friend Piper Ross. Piper did not come from their side of the tracks. She came from the OAKS. Her dad is the Chief of Police and her mom holds the purse strings from family money, old money. They both hated that she was good friends with Rowan until she got her mom and her group to get her as their charity project to get her auto shop up and running. Her dad on the other hand hated Jase for he had landed in juvie.
On that first day of high school when 14 year old Piper meets Jase, Rowan's brother, she falls madly and truly in love. She knew he would never feel the same way about his little sister's best friend. Especially, when she was overweight, shy, had a slight stutter, wore glasses, and a bad case of asthma. Even with all that Jase never pretended not to see her like her dad. He never ever said mean things to her like other boys and the way her mom did. Jase actually took time to ask how she was doing and gave her a pet name, Kitten. Making her feel special for the first time.
At the time Jase remembers her look at 14, huge eyes, behind thick glasses on a small face. That she used to stutter and how she shrunk into herself when she spoke, or in a crowd, as if part of the background. No matter how hard she tried Jase always noticed her, since the first day they met. She was short, plump girl, shiny dark hair, with eyes darting around nervously behind those thick glasses. In a dull green dress. She's all soft and scared and he felt pity for her you see high school is not for the soft and scared. She reminded him of a kitten. He would need to protect her. He knew he wanted to get to know her. But the bell rings. But they flirted a little and she makes a remark and he says, "The kitten's claws come out."
Jase sees how sweet and kind she is and that draw him in making him feel manly. A real type manly. Piper is the same age as Rowan though, 14, no matter how bad he can be, there's no way he would ever mess around with a kid. Not even a kid with a body of a woman and looks at him like he could do no wrong. He knows that girls like Piper are too good for a guy like him.
Two years later Jase was sent to prison for seven years. Rowan and Piper clung to each other as life lines you see Seth Rowan's true love went to jail too but served 7 years in the military in his own private hell as Jase put it. See how and why this all happened and what Piper does when he comes out.
I really liked this story overall but…I just kept getting lost in some missing facts like I missed out in reading the story before if there was one??? One, why was Seth arrested but served in the military? Was it for the same crime as Jase? Two, who was this guy that got almost got killed and his connection to them?
Aside from that the romance between Jase and Piper was great. They love each other through each of what they thought were their roughest times of their lives. Making each other whole.
I give this 4 stars. Provided by netgalley.com.
Follow us at: www.1rad-readerreviews.com.