REAP
TILLIE COLE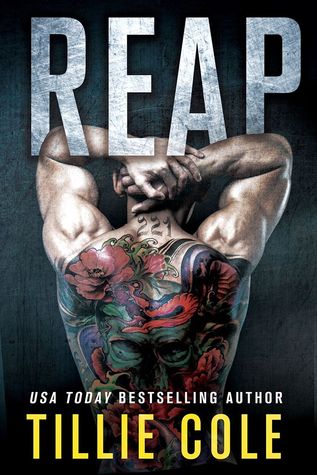 Raised as a prototype for the Georgian Bratva's obedience drug, 221 fails to think, act, or live for himself; he's his master's perfectly-crafted killing puppet. Standing at six-foot-six, weighing two-hundred-and-fifty pounds, and unrivaled in to-the-death combat, 221 successfully secures business for the Georgian Mafiya Boss of NYC, who rules the dark world of the criminal underground. Until his enemies capture him.

Talia Tolstaia dreams to break from the heavy clutches of Bratva life. She dreams of another life--away from the stifling leash of her Russian Bratva Boss father and from the brutality of her work at The Dungeon, her criminal family's underground death-match enterprise. But when she stumbles upon her family's captive who is more monster than man, she starts to see the man underneath. A powerful, beautiful, damaged man whose heart calls to hers. But sacrifices must be made--blood for blood...life for life...souls for scarred souls...
HUBBY'S REVIEW:
I did not read the first book, but this story intrigued me when I came across it. 221 is the number of an experimental drug and has been given to the man they call 221, he cannot think for himself and is under the control of a man who wants to rule more than the Georgian Bravita, he wants to come back to America and take back the Russian mob that was lost by his family many years ago. Talia Tolstaia, is the daughter of the head Bravita and she is trying to break away from the life. Now a year ago her brother had been part of this underground fighting being kidnapped and drugged to fight him along with a friend came up with a plan to get out but only he made it. Now he has found out that 221b is the brother of his friend and he goes back in and takes him out. He also needs to be locked up and put some where he will not be seen. He must come off the drugs he has been given and been under this person's commands for so long. 221 ends up at the home where Talia is on vacation trying to get away from the city and from the family business she becomes enamored by the size and the look of 221. Finally one night she goes down stairs and release him from his chains and gives him a haircut, feeds him, lets him bathe, and from their they both become in love with one another. That is until the family finds out and that is also a relative from a family that killed her grandfather, before he was born. He was also kidnapped along with his brother when he was young and really does not know the whole story. All she knows is that for her she has found her soulmate and does not want to give him up. This is a very exciting story with fighting, sex and many other scenes that make this story move along quickly, and you are disappointed when the book comes to the end. Though there will be another book, this one is outstanding, I really enjoyed it and the characters. A good read. I got this book from netgalley. I give this 5 stars.