HER DESERT TREASURE
LARIE BRANNICK
Posted: May 5, 2014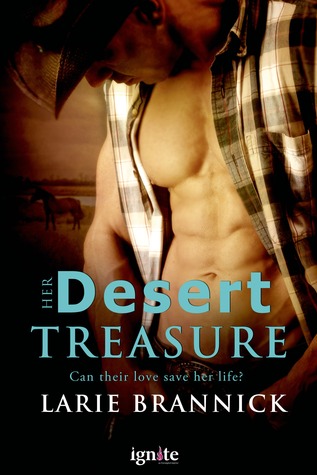 Inheriting her grandfather's ranch is the perfect opportunity for Meg Reynolds to begin again. The land is her only chance to hold onto the last bit of family she had. But Jake Matthews has other plans. He says her grandfather wanted a horse refuge on the land, and despite the heat blazing between them, Jake will do whatever it takes to get what he wants.
What Jake realizes he wants is Meg, but someone's threatening her and seems willing to kill her for her land. Meg doesn't know who she can trust. When she's kidnapped, it's up to Jake to help rescue her before he loses the chance to tell her that he cares more for her than the land that stands between them…
MY REVIEW:
Meg Reynolds has returned to Colorado from California due to her grandpa's passing. Her grandparents had taken her in when her parents had passed which if she had to be anywhere that's the place she wanted to be.
You see up until that point Meg only got to go there on holidays and summer break. Then Meg made the worst mistake of her life and one of the ones that it was done she thought she could never go back home out of shame. Especially, since her grandparents, friends, and foes tried to tell her about Troy and his controlling ways.
Once she got away from him she still felt like she couldn't go home especially after her grandma passed and she left him. She got a great job working for her girlfriend since teaching jobs dried up. When she got word her dear sweet grandpa passed she knew she waited to long to come home.
On her first day back home she neets handsome, sexy, and muscled Dr. Jake Matthews. The towns veternarian. He has only been in town two years but seems to be very well liked. The first encounter Meg has with him is when she catches him on her land filming wild horses. Comes to find out her grandpa, John Clark, gave him permission for him to be there anytime. He and her grandpa were pretty good friends. Made her kinda jeolous.
At first she thought he might be the person trying to get the land. He says he isn't, when she gives the name of who filed the papers. They find they are both instantly attracted to each other, highly unusaual for both of them. She asks him to leave for she says she is tired and he agrees and says he will lock the gate but besides him she also feels like she is being watched by someone else and it is not the first time either. The next day brings new and exciting happenings.
Their chemistry, surroundings, and awareness that Jake and Meg have is off the charts. They both find themselves trying to find ways to be aroud each other. When Jake becomes to intense at times she gets shaken up for it reminds her of Troy, she does tell him to slow down and back it up. That's when he realizes she's been really hurt before and does as she ask. Never trying to crowd her. She knows that there are old tapes are hard to remove. Not afraid to voice their insecurities.
That is what I like most about this book. Even though the romance was quick it was not unheard of. I just like the level of communication when her fears surfaced and wasn't going to let Jake do what Troy did. The empowerment she had. They worked as a team to put to rest each of their past hurts and fears. There were funny parts, erotic parts, suspenceful parts, and tense parts. All coming together to make a good read. I give this 5 stars. Provided by netgalley.
Follow us at: www.1rad-readerreviews.com