HIS BILLION DOLLAR BABY
LEA NOLAN
Posted: May 14, 2014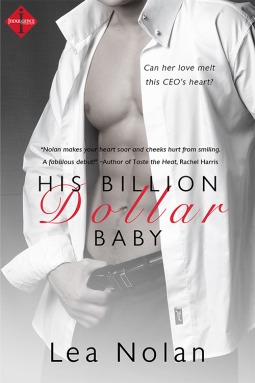 Burned by love and grieving over his brother's death, sexy billionaire CEO Carter Anderson wants nothing more than to protect his family. So when beautiful and unassuming physical therapist Gwen Radley shows up at the funeral, pregnant with his brother's baby, Carter's certain she wants an interest in the Anderson empire—and both his suspicion and attraction grow when circumstances force Gwen to move into his family's mansion.
An orphan, Gwen's never wanted anything more than a family, and she finds in the Andersons a place she and her baby might belong. When Gwen's therapy expertise leads to long hours of intense, late-night collaboration on a lucrative project, the attraction between her and Carter leads to a night of white-hot passion. But Carter's distrust remains, leading them both to wonder if he will ever embrace his brother's baby—or the love that's blooming between them.
MY REVIEW:
Gwen Radley works at Walter Reed Hospital helping wounded soldiers recover from their injuries during physical therapy. During one of her sessions she meets an outgoing, funny, and kind man, Ben Anderson. He would be returning to active duty as soon as he met all his required physical needs, it would be his third tour. Once he completed treatment, like all the other soldiers, she thought that would be the last of it.
Several weeks later and the day before Ben was to ship out he came by to see her and ask Gwen out to dinner. After thinking about it she saw no harm in it since he was no longer her patient. Ben was a nice guy and oh so funny. After dinner and way to much drinking for both of them they ended up having mad hot monkey sex, with no promises and not attachments.
Almost four months go by and she finds herself pregnant, sitting in a parking lot holding a sonogram picture of her baby. She is trying to talk herself into going into the mortuary. You see she wants to get in unnoticed and be able to slip the baby's picture into Ben's hand and whisper to him that they are going to be parents. On shaky legs she makes it inside only to find out it's a closed casket. She finds the director explains her plight and he understands he agrees to take the picture. He does explain however that he will need to talk to the family to get the final okay. She schools her face not to show her panic but thanks him and turns to leave. She bumps into a tall, handsome, and blond man she remembers passing on the way in, he extends his hand to her and thanks her for coming and introduces himself to her as, Carter Anderson, and then wait for her response.
Now panic really sets in. Ben had a brother? He waits as if waiting for a name so she has to give it. She explains that she knew Ben from Walter Reed and that she helped with his recovery. Carter continues to watch her with a smile. Carter noticed her too when she first walked in. She is beyond beautiful, she must know that, right? He had noticed her when she first walked in but then felt bad due to the reason they were where they were. When his mother joins their group. Carter introduces her and lets her know that she had helped Ben recover at Walter Reed. When all of a sudden it comes out that she was the one that had wanted to put something in his casket…All of a sudden she drops her purse and the remainder of the pictures from her sonogram fall out of her purse. This is how this tale begins more or less…
You can't even begin to see how this all goes just by this beginning. Take time to see what all happens. Carter is filled with so many trust issues that he spreads his distrust everywhere and it just causes so many problems. They have all lost so much and they have Carters hangs ups to deal with too. Gwen has a stubborn streak a mile long from her background but it gives her the strength to not let Carter and the Anderson money hold her hostage. Gwen is the salve they all need and see how she does it. I really enjoyed this book a lot. The reader got to see how hard it is for a child that has grown up in the system to make connections when they have never had any. Then to see how hard it is when for Carter to have trust to lose it too to gain it again. I give this book 5 stars. Follow us at: www.1rad-readerreviews.com