HOMECOMING
JACKIE SEXTON
Posted: Nov. 21, 2014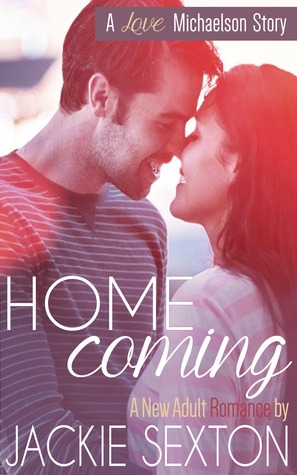 Ariane Michaelson is always the quiet girl in the room, the one that her kooky mother and three sisters lovingly call the wallflower. After graduating from college she finds it more than a little difficult to find the graphic design job of her dream...or any job, really. She's more than given up on painting, and a terrible run-in with her twin sister's fiancé makes each day harder to keep a life altering secret.
Liam Ashdown was just the moody small town nobody, with one friend and a busted pickup—until he moved to LA. Spotted by famous actor and producer Michael Jennings during a late night shift at the bar, Liam is transformed seemingly overnight into Tinsel Town's hottest bad boy. The life Liam once knew is turned upside down with models and mayhem...and there isn't much down time in-between.
The only thing that keeps him sane is the paintings. Beautiful ocean portraits that remind him of home, painted years ago by some friend of a friend.
What he wouldn't give to know her. To tell her that her art saves him everyday.
The engagement of his childhood friend, Todd, brings him back home to Craryville, to deal with a drug-addicted mother and an ailing grandmother. But it also brings him hope—somewhere in the bridal party is the woman who has been his calm and respite in the storm of fame.
The only question is, can she save him?
MY REVIEW:
This is a story of a hometown boy who makes good in Hollywood. Liam Ashdown looks at his fame as almost as big a cures as if he would have been stuck in his hometown of Crarywille, South Carolina. You see he had hopes of being a great bartender so he could work on a screenplay instead he was noticed by one of the high paying drunks saying he could use him in his next movie. Which he was in and he was a huge hit. He's wanting out.
Then one day his best friend, Todd, from back home sends him beach scene pictures of paintings that Todd's future sister in law painted and his fiancé found deep in her closet of Ariane Michaelson. She is no joke as an artist but she doesn't know it. She had them hidden away in her childhood closet so no one would know she even did them. For Liam they gave him great sense of peace and gave him clarity for the future he truly wanted.
Ariane had no idea her sister had found her paintings and was showing them to others not even her family. It was her private joy, peace, and getaway when she painted. All she knew at the last minute she had decided that she would go with her twin sister Isabelle home for the weekend to be at her sister's bachelorette party. Little did they know that when Todd and Jordan (her sister) pick them up, Liam, is with them. The two girls start to do a mini freak-out. Their sister Jordan sets them straight, that he wants to be treated like he was an old classmate and nothing else. Yet, when Jordan, Todd, and Liam were seniors the twins were freshmen. From what Ariane can remember he was quiet and grumpy most of the time and a loner.
The ride to her mom's didn't do much to change that image at all "Mr. Bad Bones." Which I don't think we find out why Ellen Delay even called him that. Once at her mom's she is off and gets away from him. The next day he lets her know that he knows her through a photo Todd had shown her. That he likes her a lot and is highly attracted to her in every way. Especially sexually, that he thinks she's gorgeous, and would like to get to know her. Which she cannot wrap her mind around because she is slightly overweight and he can have anyone he wants and she tells him. But he wants her. All's going well he leans in to kiss her and…
I totally enjoyed this book it had some fun and interesting and well developed characters. I especially liked the bathroom scene. James is a hoot, he just made me laugh. I give this 5 stars.