MERRY CHRISTMAS BABY
JILL SHALVIS
Posted: Nov. 21, 2014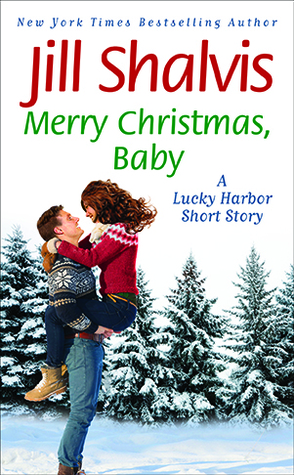 SEASON'S KISSES
Wild child Chloe Thompson can't believe how much things have changed. She still can't get enough of her sexy husband Sawyer, but he seems to prefer working to thinking about impending fatherhood. So tonight, a very pregnant Chloe is escaping her troubles at the town Christmas party.
Sheriff Sawyer Thompson hopes surprising Chloe at the party will give him a chance to set things right. But as the snow begins to fall and the wind rages, he wonders whether he can make it back in time. While mother nature conspires to keep Sawyer and Chloe apart, an unexpected arrival will require them to kiss and make up . . . and ring in the happiest holiday Lucky Harbor has ever seen. 13,000 words.
MY REVIEW:
Let me just say I love Jill She can take even a short and make you feel like you've never been cheated. This story is set in Lucky Harbor and follows her series by the same name. We get to catch up with two of our fun characters Chloe and Sawyer Thompson, who have now been married five years.
Which and of itself is a miracle with Chloe being the free spirit that she has always been, never living by any rules. The kind of girl that keeps rolling like a tumble weed, unlike her two older sisters who are now married also to Sawyer's best friends. Sawyer being the straight laced as they come being a sheriff trained as a DEA Agent he brings her balance. But that also gives her cause for anxiety at times. Too much calm, not movement, and no talking for Chloe can spell trouble and she starts making up things that are not there.
Neither ever really thought of marriage let alone love at first sight so the fact that they are still together and having a baby says a lot for them both especially with their backgrounds. This story goes through a week toward the end of Chloe's pregnancy. Her feelings a gap and rift in their relationship she's worried Sawyer never wanted the baby and now doesn't want her. She finds herself lashing out at the profession he loves so much especially since he has taken on more hours and more training.
At one point in time Chloe had a stalker and Sawyer had been the one to protect her. Now while he's away someone has been coming into her home leaving her gifts…
I totally enjoyed this book it explains to each character why they were behaving the way they were. Chloe was always my favorite of the 3 sisters because she always got her in trouble. Now she will be a mom?? I gave this 5 stars.
Follow us at: www.1rad-readerreviews.com