SLOW AND STEADY RUSH
LAURA TRENTHAM
Posted: March 13, 2015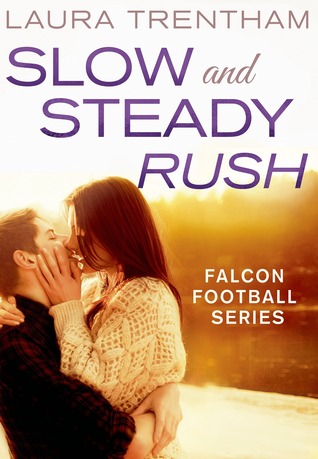 She lives by the book—and is still searching for her happily ever after.
Darcy Wilde has tried hard not to live up to her last name. As a librarian in Atlanta she lives a fine life far away from the football-obsessed town of her childhood. But when her beloved Grandmother needs help, Darcy takes a leave of absence and heads back to the home and past she left behind.
He knows how to play the field—and is in no rush to settle down.
Robbie Dalton knows a thing or two about painful pasts. After bouncing around in foster care and the Army for years he is finally ready to move on and make a home for himself in Falcon, Alabama as the newest high school football coach. Sparks fly when the sexy new coach and the sharp-tongued librarian meet, but neither of them is looking to make ties.
But when it comes to love, sometimes you've gotta throw away the rule book to cross the finish line…
Everything changes when Darcy falls in love, not only with the gruff, protective, and smoking hot man who's sharing her days and nights, but also with the complex tapestry of people who weave Falcon together. Could this be where she belongs - and who she belongs with?
HUBBY'S REVIEW:
This story begins with Darcy, coming home to help take care of her grandmother who raised her and her cousin Logan. Throughout the story she is worried about her job at Emory College as a research librarian, helping students with their doctorate thesis. She finds out that the new football coach is living in the house behind her grandmothers and that makes her want to investigate feeling like her grandmother is being taken advantage of. As she does she also is noticing feelings that she has not experienced with the few boyfriends she has had. He being, Robb Dalton, was in the Army with her cousin and has a service dog with him, is trying to get over his childhood and then deal with his service which he has an easier time with. Darcy, makes the story go along for her whimsical charm and forgetting what it is like to be back in a small town with everyone knowing or think they know what is going on in your life. I found this to be a very funny book at times but also a serious book with the main characters dealing with abandonment as children and how that is still effecting them as adults. Each character had depth and this help the story and at times moved the story along after they had a serious moment. All and all a good book I really liked it. I got this book from net galley. I gave this 5 Stars.