ANYTHING FOR A COWBOY
JENNA BAYLEY-BURKE
Posted: April 12, 2015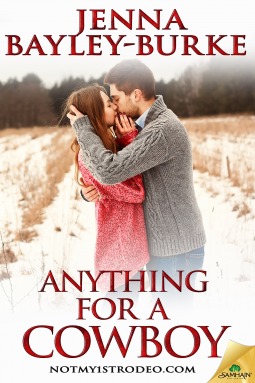 Her plan was for them to fall in bed, not in love.

A NotMy1stRodeo.com Story

When veterinarian Jacy Weston changes her location on her western dating website profile, she thinks it's no big deal. Opal Creek…Myrtle Creek…what's the difference? As little white lies go, this one barely qualifies. Besides, since her brothers have chased off every guy within a hundred miles, the expiration date on her virginity is way past due.

Ray Mitchell is not inclined to waste his time on something as unnecessary as dating, but it's much easier to take a woman to coffee than to explain to his mother why he's in no hurry to get married again. Despite NotMy1stRodeo.com's promises, he doubts he'll find any woman willing to find herself stuck on a remote ranch raising rodeo stock.

But Jacy is different. She isn't afraid to get her hands dirty. Or to get down and dirty. Ray's thinking he's found the one, until the truth comes out…and he realizes the divorcee from the next county he's been dating doesn't exist.


Warning: Contains a virginal heroine looking for the nearest exit for the horizontal highway to heaven, and a cowboy willing to go the distance for the right woman.
MY REVIEW:
What's a girl to do? About to be thirty in a matter of a week or so and she still had her V-card. Thanks to her brothers scaring all guys off. Either with bodily harm, no chance of being hired on their ranch, or looks that could kill.
Well, Jacy Weston had enough! She was tired of dating the metro-sexuals of the world. She was a simple country girl who happened to be a Veterinarian. She was a partner in a practice and she traveled from farm to farm looking after big animals also. Yet, her brothers still felt they had a say and it affects any dates two towns over in any directions.
Jacy was taking matters into her own hands. She decided to use the site her brother Slade once used, to find herself a man. Here's the catch. The site notmy1strodeo.com is for divorcees, widowers, or it's complicated. Of which she is none. So, when her BFF, Carly, finds out what she's up to she is not happy and tries to talk her out of it. She tries to tell her to save her V-card for someone special since she saved it this long. Lacy said it was never her choice to save it or not save it, it was her brothers.
This way it was hers cleans and easy. She makes the choice no emotion just sex. Well, that was the plan until her first hook up for coffee with Ray Mitchell. You see they hit off really well that after coffee and her nap because she had worked long hours. He wanted her to come out to his ranch for a ride. She was hoping it meant what she thought…sex. After their horse ride it almost did but neither had protection and they almost got caught by his mother in the tact room.
She ends up leaving but not before he asks her out for the following Saturday. The real problem being Ray thinks she lives in the next town over, not 3 hours away. You see she lied about what town she lived in, marital status, and she shortened her last name because everyone knows her family. So the whole week Ray kept calling and texting. She was excited about her date her first official one ever!
But at the last minute things take a turn for the worst. This was one of the cutest in the series. I loved the way they bantered as a couple, the way they loved hard, and fought hard too. All the characters commanded their parts to hold your attention. A fun sexy read. I give this 5 stars. Provided by Net Galley. Follow us at: www.1rad-readerreviews.com