THE SUMMER'S END
MARY ALICE MONROE
Posted: May 19, 2015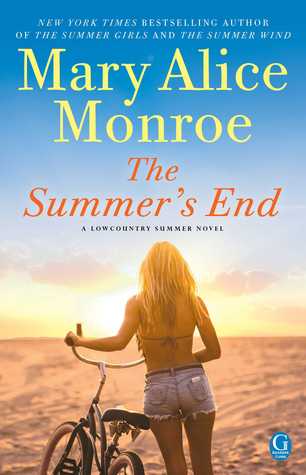 It is summer's end and Sea Breeze, the family's beloved estate on Sullivan's Island, must be sold. It is an emotional time of transition as Mamaw and the three sisters each must face loss and find a new place in the world.
Harper, the youngest sister, arrived at Sea Breeze intending to stay only a weekend, but a rift with her wealthy, influential mother left her without direction or a home. During this remarkable summer, free from her mother's tyranny and with the help of her half sisters, Harper discovered her talents and independent spirit.
But summer is ending, and the fate of Sea Breeze hinges on Harper's courage to decide the course of her own life. To do so she must release her insecurities and recognize her newfound strengths. She must accept love fully into her life—the love of Mamaw, Carson, and Dora, the love of Sea Breeze and the lowcountry, and most of all, the love of a Wounded Warrior who has claimed her heart.
MY REVIEW:
We all look for love to feel it, hold it, and cherish it. What happens when you come from a background of one controlling parent who has ever wanted you around as a prop or as her beck and call girl? Welcome to Harper Muir-James life or nightmare whichever you choose.
You see her mother Georgiana is originally from England. She lives with a sense of entitlement. Believes that even at 28 years old Harper must still mind her, live with her, but must work for her at the top publishing company too. Not as an Editor as she has a degree for. No! That would be too easy. As her personal assistant who can do nothing right.
When it came time for Mamaw's (grandmother) 80th birthday party at Sea Breeze the family estate. Harper knew she would be going no matter what. To which her mummy did everything in her powers to make her not go. To the point of a fight that makes Harper quit her job. So, mid-May she was off to Sullivan Island close to Charlotte for Mamaw's Birthday. For Harper it was like going home. But the last time she had stayed out there for the summer was when she was 10 or 12. She and her two sisters from different mothers would have their exciting summer adventures at Sea Breeze.
As they each got older and life got in the way coming to stay with Mamaw and Lucille just never happened. The sad thing is they all had planned to stay just short whiles, it kept stretching for all of them. Started mid-May seven days in Lucille's passes away. You see it had been Mamaw's and Lucille's plan to bring the girls to one last summer together before Mamaw sold the homestead. The one home they all loved, the one they could always call home, Sea Breeze. All the girls had drifted so far apart she needed them to find each other again and themselves again too.
Endora (Dora) along with her son Nate, were in the middle of a nasty divorce. On top of it Nate has Asperger's and he is getting harder to handle during his episodes. She had always home schooled him but that is no longer an option for either of them. Luckily an old flame finds her again and they connect.
Carson has always been the closes to Harper for they were the adventures souls. They loved to be pirate buddies together looking for treasure around the island. Yet, Carson has her own issues that are starting to push Harper's buttons. She has a plus one, Blake that she loves in her Carson way. Being a still photographer puts her in a detachment mode from her emotion sometimes. When a crisis comes to Carson and Blake she finds it hard to rely on Blake for help. She is so use to fixing things on her own.
Harper is searching for direction now that she had no one breathing down her neck to tell her how to think, feel, and act.
When the girls decide to act like grownups and not children by helping around the house, they decide to clean house. When she is in the middle of a deep clean of the kitchen the doorbell rings. No one is around to answer it so she does. A sexy as hell, tall, broad, muscular man turns and smiles at her. Their eyes meet and hold for a little too long and at that moment it feels like she had known Taylor McClellan for forever. He says hello and his name and asks for Carson. Harper is just there blinking when it hits her of course he is there for Carson. She asks him in and gets her sister…
This was one of the most enchanting stories of love I have ever read. The love of a grandmother for her granddaughters, the love of men, and the women who love them back. The love of home and hearth, the love of nature, and most of all the love of roots. The true connection that binds us to those we love. This has some of the tenderest moments where you will be collecting your tears. There will also be some funny places where you will find yourself laughing out loud. This is a family saga that is so worth reading you will not waste your time at all. I give this 5++++ stars. If I could give 6 stars I would. Provided by Net Galley.
Follow us at: www.1rad-readerreviews.com