SIMMERING ICE
VERONICA FORAND & SUSAN SCOTT SHELLEY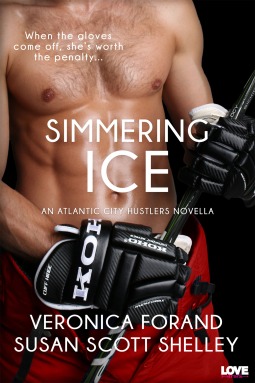 When the gloves come off, she's worth the penalty...
Physical therapist Annie Davidson is great at her job but unlucky when it comes to love. She's just out of a bad relationship. A
really
bad relationship. All she can do is focus on work...that is until she runs into professional hockey player Alec O'Meara. She's a touch insecure and doesn't understand why he's interested in her.
Despite being one of the biggest players on the team, right wing Alec O'Meara prefers finesse over force. After the tragic death of his wife, he likes to keep things loose on and off the ice. But the red-headed Annie challenges his beliefs and makes him think about taking their relationship to the net.
The passion and fun they share is addicting and makes them long for more. But her insecurities that she's not good enough, and his anxiety over a long-term commitment will keep them apart, unless they can find a way to break through the defenses they've built around their hearts.
MY REVIEW:
Alec O'Meara plays hockey for The Hustler's he's good at his job yet when it comes to his personal life he has issues. You see Alec was once married to a beautiful red-head named Tamara. She met a tragic death known as cancer. Alec has really never gotten over it. He loves beautiful women but he's only looking for a one nightstand. Not a forever kind of girl at least not anymore. He already had that and lost it. So you could say he has commitment issues.
Well, he'll have to take a number behind the beautiful and charismatic redhead, Annie Davidson. Everyone that meets her loves her what's not to love. She's outgoing, funny, and beautiful. Yet, no one knows her secrets she carries. The beautiful physical therapist is unlucky at love. She's just out of a bad relationship, let me say this again a really bad relationship. You see her ex boy-friend, Corey, was cheating on her with a medical assistant, they both were working at the hospital. Everyone knew about but Annie. But when she found out it was over Corey ended up moving hospitals and the assistant moved to the second floor. Out of shear loneliness she can only focus on her job and at least be the best she can be there. Until hockey player Alec O'Meara runs into her and almost knocks her over.
They get set up by a mutual friend Mikael the goalie of the team. Annie and he became friends when he started visiting some of the patients she sees. Then it turns out he lives in her neighborhood and since they both don't cook they end up at the same restaurant at least twice a week. After she cried on his shoulder about her last break up they were more like brother and sister. Once Annie meets Alec she mentions to Mikael that she wouldn't mind risking going out there and dating again. Hence the dinner set up she had with Alec.
It was a wonderful dinner although it started out awkward since it was the three of them and then Mikael played the "Oh I forgot I have a date!" card. When it was over Alec wanted to drive her home and knew she felt uncomfortable so he calls Mikael for 3 reasons, 1.) To check to see if he was really on a date. 2.) To see if he was disturbing him for setting them up which would serve him right. And 3.) To put Annie's mind at ease the he was not a rapist or murder. They both listen in. That's where the problem arises. Mikael goes on about how he was right that Alec would like her right? That he could see it in his eyes when you met her at the hospital. Making Annie and Alec laugh because Mikael had no clue they were both on. Before either of them could tell him Annie was on the phone the Happy Smile they both had drops when Mikael says, don't shoot yourself in the foot like you do with all the other ladies, like you have since Tamara. That was the just at least. Either way there went the fun right out of his voice and the joy out of his eyes. Only making his drive to take her home all the worse. All she could say was, "Sorry for your loss, sorry if I remind you of her and thanks for dinner. I'll see you around."
But neither of them could stop thinking of the other one. Alex sees her after a game with a group of her young patients meeting the team. He knew she would be there so he was seeking out her red hair to get a glimpse of her. Once he made his way to the other side of the room where she was trying to blend into the scenery now that he was in the room. With her beauty that was not going to happen. He engaged her patients then her too. She made short but sweet answers then told the kids they needed to go. At which point Mikael said knowing her she would probably be stopping at the diner after dropping off the kids.
Instead of going out with the team to celebrate he went to the diner to try to run into Annie. When he gets there a guy has his arms around her pinned to the counter. It gutted him at first. She was the first woman he had interest in since his wife. When he noticed Annie's face was strained and then she was saying something to the guy who moved back quickly. He could tell she was shaken up but she assured him when he went in to check on her that it was handled. God he loved her fight and her courage.
I totally enjoyed this story short. Showing the struggles of starting over after losing a loved one and the emotional strain it takes on you but it can take on your new partner. In the case of Alec and Annie, Alec was a celeb and lived a grand life style and Annie for the most part was living a content life if she would just stop talking to her mom. She gave her reason to always be in a "state of insecurities and less thans." Watch how these two work in and out of personal mine fields. I give this 5 stars. Provided by Netgalley. Follow us at: www.1rad-readerreviews.com