SPICY WHITE CHOCOLATE
CASSANDRE DAYNE
Posted: July 8, 2015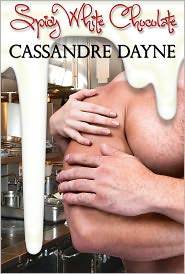 What will five highly professional and well-respected women do to entice their erotic book club meetings? A game of seduction perhaps? Developing sinful stories of their own? Join them as they search for the perfect younger hunks to help satisfy their secret fantasies, indulging in uninhibited moments of passion. What happens when the selected men find out about their rouse?
Shawna Dupres was more than ready to have a steamy affair and so were the women in her erotic book club. Forming a wicked pact, each was to hunt and seduce a man. The winner would receive an all expenses paid weekend for the lucky couple. The kick was the hunk had to be much younger. Unfortunately owning Sauce and Spice, an upscale Cajun bistro and one with serious financial troubles forced long hours. She desperately needed inspiration for a spicy dessert and a way to save her livelihood. When Austin Tomlin arrived to repair a storm-damaged door, she knew the brawny man might be the tasty treat that could kick start her career and her libido. A spicy white chocolate fondue was a huge hit all the way around.
Austin craved the voluptuous woman at first sight and while she was years older, it only added to her allure and he knew Karma was giving him more than a hint or two. Engaging in a conversation, the sparks flew and they entered into a wild tryst in the middle of the kitchen, realizing they both craved more. Unfortunately Austin wasn't who he purported himself to be and his secret could finish their relationship before it even started. Then again, if he came clean, he might be able to help her save her restaurant. But Shawna had been burned before. Could she trust this man to save not only her restaurant but also her heart?
MY REVIEW:
Things aren't always what they seem to be as this fun short erotica shows. It opens with Shawna Dupres at a weekly Wednesday book club, "Piranha Girls." These are cougars on the hunt for younger men. They have been used and abused in more ways than one and it's their time to be served or serviced.
At this book club night Cara was the hostess of this particular Wednesday. She handed each woman a gift bag to go with their early afternoon drink, because it is 5 o'clock somewhere. The way the chatter was headed the gift bag had something to do with erotica like the book. They couldn't open the gift bag until they came up with their secret very sensual pact. The first time made.
Boy did they come up with one. In ten days they had to find and take a younger man to bed. All were excited and game. Although Shawna didn't voice it she didn't know how she could possibly do it with her business The Sauce and Spice a Cajun Bistro. Not to mention the 70 plus hours she put in. She didn't want to admit it to herself but the restaurant was having financial trouble. Her accountant was even advising her that she needed to consider taking on a partner at the least. Yes, because he also told her there was someone trying to buy her out.
She really didn't want to think about that. So the next morning she dressed as sexy as possible so she could come up with a new exciting chocolate dessert all the time thinking of the fantasy the girls created. When she arrives at her parking spot there is a large vehicle with a ladder and all when she remembers she had an appointment with a guy to fix the damaged door from the storm.
She gets out and all she can do is not melt as she takes him in this tall, sexy, brawny, young, and did I mention sexy man? Don't think he wasn't checking her out she could tell even with his sunglasses on she could see his head move ever so slowly taking her in from head to toe. Which was making her sweat and wet at the same time.
When she gets to him she says how she is so sorry she was late. He tells her not a problem. He just got there also. She extends her hand and she says Austin Tomlin from Creative Construction correct? He smiles and says yes. Removing his sunglasses he does nothing then to disguise that he is checking her out from head to toe. Something that turns her to mush and has her feeling like a teenage girl not knowing how or what to do around a guy.
She takes him around to the doors that are damaged. He says they will take no time to fix and they chat a minute when she says she'll leave him to it. He says something that sounds like a come on but when she says excuse me he changes the inflection. She says she'll be inside when he's done.
She turns the music on, puts on an apron, and gets all the stuff to do a fondue with a twist…peppers. When Austin comes in and he scares her when he speaks and she does something she is not known for she sends the fondue pot flying. It's spinning off the table and on to his pants. He just laughs and takes his finger to taste it which she can't seem to take her eyes off him doing. When she comes to her senses and gets a towel for him to try to clean up.
What he does next with the chocolate and her is…you didn't think I would tell you did you? This was a cute story. My hubby read it before me. So I knew he knew answers to questions I had. So when the plot would take a slight yet important turn he would throw out a "No" or "Keep reading!" I was so surprised at points but pleased at the end. There was a cute story to go along with this erotica and that is a plus. I give this 4 stars. Provided by netgalley.com
Follow us at: www.1rad-readerreviews.com