THE COWGIRL RIDES AWAY
AMIE STUART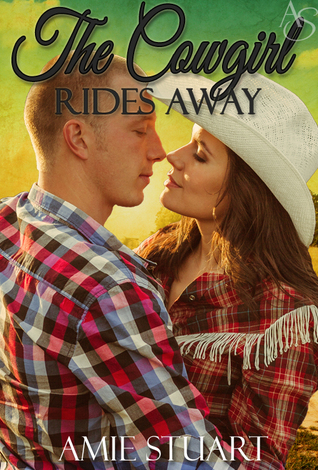 "Everybody Lies"
My name is Jessalyn Stratton. I've been riding the rodeo circuit since I was seventeen. Now, I'm a twenty-six year old wash-out, a has-been with a fake knee who's never really dated and never had a boyfriend. Then I stumbled across a personal ad on the Internet.
Zack Boudreaux is a twenty-seven year old single dad living and working on his family's ranch in Texas. He's looking for the woman of his dreams and thinks he might have found it in me.
I should be riding off into the sunset, living my Happily Ever After. Except after months of emailing each other and sharing secrets I'd never told a living soul, I still had one last secret to tell.
Opening up to Zack was easy. Telling the truth could change everything.
Warning: this story contains a mail-order bride, sort of, a couple of secret babies (or 3), lots of hot cowboys and (a butt-ton of family) drama.
Please Note: The Cowgirl Rides Away is a full-length contemporary romance novel. It's intended for mature readers, contains adult language and content, but NO cliffhanger.
MY REVIEW:
You know how I love cowboys and family sagas and this one was that fit in nicely. It is filled with love and turmoil. Joys and heartache.
Jessalyn Stratton, 26, is a champion, 5 time PRA World Saddle Bronc Champion, the only female rough stock world champion in PAA history. Yet, that has all ended when she was thrown by "Duster's Twister." She was so broken emergency surgery was needed, she almost died, and she was in a coma for 3 days. She would never do the rodeo again. She had given rodeo and her dad 13 years, now she had nothing. Her dad dropped her at the hospital and left because her stepmother wanted him home for the holidays. Says everything about their relationship now doesn't it?
If it wasn't for her brother Jace and Kane her best friend she would have been all alone. The two took turns being with her at the hospital. Jace took 4 months out of his life for her. He finally at the last week of her physical therapy told her he was ready to get back to rodeo. She was hurt and angry mainly because she could no longer do it. She told him fine be gone when she got home from PT.
Part of her was sad he was gone but part was not because she didn't tell him back on New Year's Eve they passed their time at the hospital reading all the crazy classifies. People put the craziest thing on. Well one had caught her eye. Enough so that she actually wrote to him. For the past 4 months they have been getting to know each other and he wants to meet her. When she gets home sees a letter from one of her sponsors dropping her. Making that the last of her sponsors gone she was a real loser so she thought. She has no one to call and vent to. She tries Kane but he's at his g-ma's funeral. When she constructs an idea about visiting Zach Boudreaux after he had extended an open invitation.
Zach, 27, from Texas and he has a 4 year old son Travis. He lives on the family Ranch with his parents and three brothers. Only one never comes home to visit at all. Zander is an FBI agent. He, Tim, and Ty all have their own homes on the ranch like Zach does. Tim has a daughter, Rene, who thinks she's a teenager and Tim is divorced. Ty on the other hand plays in a weekend band with Zach. He's in a horrible marriage with Rhea.
Now Zach would rather be painting or playing music instead of ranching his is not like his brothers. He went to college in Florida for art. His parents refused to pay for it but when his granny passed she left him enough to go to any color he wanted. Coming back from college with Travis putting a strain on the relationship between him and his mother. For some reason over the years she had become grumpier. Although, Zach kept a truth from his parents he expects full honesty from a partner but does not do the same.
At their first meeting Jessa had to disclose a truth about herself and that she didn't lose a conventional job but sponsorship for what and who she was. Also, where, how, and when she found his ad. He was leery but the work through it until the crazy family and community find out.
Very sweet read. Some heavy family subjects broached but it is done with respect. Something to look at because sometime dealt with tears and sometimes humor. All the time love and respect. I give this 4 stars. Provided by Netgalley.
Follow us at: www.1rad-readerreviews.com