SPICY WHITE CHOCOLATE
CASSANDRE DAYNE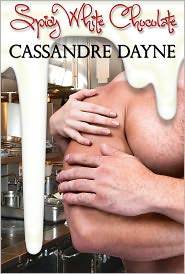 What will five highly professional and well-respected women do to entice their erotic book club meetings? A game of seduction perhaps? Developing sinful stories of their own? Join them as they search for the perfect younger hunks to help satisfy their secret fantasies, indulging in uninhibited moments of passion. What happens when the selected men find out about their rouse?

Shawna Dupres was more than ready to have a steamy affair and so were the women in her erotic book club. Forming a wicked pact, each was to hunt and seduce a man. The winner would receive an all expenses paid weekend for the lucky couple. The kick was the hunk had to be much younger. Unfortunately owning Sauce and Spice, an upscale Cajun bistro and one with serious financial troubles forced long hours. She desperately needed inspiration for a spicy dessert and a way to save her livelihood. When Austin Tomlin arrived to repair a storm-damaged door, she knew the brawny man might be the tasty treat that could kick start her career and her libido. A spicy white chocolate fondue was a huge hit all the way around.

Austin craved the voluptuous woman at first sight and while she was years older, it only added to her allure and he knew Karma was giving him more than a hint or two. Engaging in a conversation, the sparks flew and they entered into a wild tryst in the middle of the kitchen, realizing they both craved more. Unfortunately Austin wasn't who he purported himself to be and his secret could finish their relationship before it even started. Then again, if he came clean, he might be able to help her save her restaurant. But Shawna had been burned before. Could she trust this man to save not only her restaurant but also her heart?
HUBBY'S REVIEW:
This is a short story that is erotic. It begins with a group of ladies that met for their book club but come up with another way to make their meeting more enjoyable and the one that completes their task gets a vacation at a resort that they all agreed upon. The first story is about Shawna Dupres, who owns a restaurant but it has fallen into some finical trouble. She is also looking for a contractor who can fix her outside door from a recent storm damage. Enter Austin Tomlin, who is not only a contractor but also a younger man that she was looking for her escapade. Shawn is attracted to Austin but does not know if the feeling is mutual until one night when he comes in and after she closes they have a hot night. The problem is they are both attracted to each other and now must work out their little hang-ups. Hers is mainly not thinking that a younger man could really want to spend more time with her plus one that she is attracted to. When they decided to meet somewhere else to talk she also tells him about the bet and he asks if she completed it and when she says not the way she describe it. He asks for details and then they get busy with completing her end, and while they were in the mist of doing it one of her friends sees them and is surprised that she already did the deed but also found a gorgeous man who said he was into her. This was a fun story and actually a good book or I should say a short story. I got this book from net galley. I give this 4 stars.