THE BILLIONAIRE'S DECEPTION
MIMI WELLS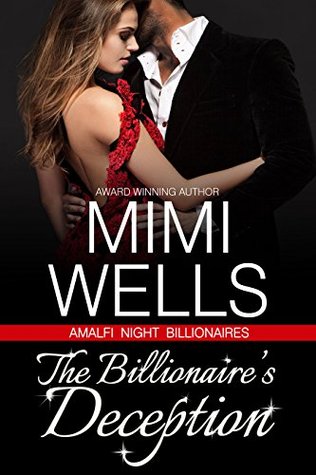 After quitting her first "real" job, Janine Pike takes off for Europe, saving an excursion to the famed Isola del Sole for last. But when her travel-mates sail off with her backpack, phone, and passport after a night of partying, she's left only with the euros in her pocket and the faint hope that her estranged half-sister, who works at the renowned Hotel Dei Fiori Isola del Sole, might help her.
Shel Myerson, amateur racecar driver and wildly successful TV mogul, oozes wealth and prestige. What he doesn't have much of is privacy, thanks to a recent and ugly public breakup. What he doesn't expect is to be mistaken as an employee by a very pretty—and very broke—Janine, the one person in Europe who also doesn't have any idea who he is.
Shel and Janine discover their chemistry is combustible—but will their budding relationship survive the heat once the press catches on?
MY REVIEW:
Janine Pike always thought she was the eldest in the family. She comes to find out her mother had been holding a dark secret. With the disapproval of her parents she quits her boring management job. And decided she was going to backpack through Europe. So her parent's knew that her mom needed to be straight with her before she left.
You see she had received a letter from her birth father's daughter making her, this person her half-sister. Considering she didn't know she had another father than the one she was raised with this came as a shock. Stephanie Harlan her half-sister it turns out that she is four years older than she is. Their father it seems for all his fame as a chef with his own T.V. show, was a womanizer. He had many affairs, Emily her mother was one that just ended up pregnant. So, when she confronted her mother she was told that the agreement was he would do a settlement but she would have to keep quiet or at least it was understood. Because of his wife, daughter and his show. That after his death she still didn't tell.
So with a friend from college she goes back packing across Europe planning to end the trip at Stephanie's front door to meet and visit her for an hour or two. The night before Simone her friend's on again off again who had a yacht sailed them there took off leaving her passed out on the beach. Half hung over she gets woken up by the very pissed off manager who is not happy at all. Simply by the sheer mess left behind. He asks if she is ready to settle the bill. She says no that Christophe had left 2 credit cards. When she is told the bad news they were both declined.
Now a migraine was setting in as she reached for her backpack to remember it was on the boat as was her phone to call Simone. All she finds in her pocket is lint and crumbled E20 note. She has big problems she follows him to the desk explaining she has no backpack therefore no I.D., license, passport, money, or credit cards. The manager Carlo, is not happy. When she gets desperate and asks for her sister Stephanie who works there at that hotel. He says she is unavailable. Then he goes to the back room. She then makes eye contact with the piano player who is easy on the eyes then turns away.
When the manager comes back he is even ruder than before. That's when the piano player comes to help. The manager seems to listen then. The piano player seems to personally know Rocco De Luca one of the brothers that own the hotel so after she tells him the story he calls him and Steph talks to her. Things start moving really fast then. Carlo gets put in his place which doesn't make him happy. She is to stay in her sister's bungalow and wear her clothes since she only has what she is wearing. She totally lucks out because Shel the piano player short for Sheldon gets her a job working at the bar to help pay off her tab even though both Rocco and Steph said no. She said she doesn't work that way. Shel is impressed that she wants to work it off and two that she has no clue about who he is. His haircut really did the job.
So, he asked the staff to treat him like a regular employee instead of Sheldon Myerson the Amateur Race car driver or the successful T.V. Mogul with no privacy. He just wanted to feel like a regular guy around her. To feel what it was like to be with someone who liked him for himself. Can he do it or will a drop in from his past kill the vibe that he set up? Is it all a lie or could she have really fallen for a play boy in 2 days? Better yet can he fall for her at all?
I really enjoyed this book. Kind of wish it was longer. I feel like it went too quick into the resolution. I would have like to have seen it worked out on the page. I give this 4 stars. Provided by netgalley.com. Follow us at:
www.1rad-readerreviews.com