STEAL ME
LAUREN LAYNE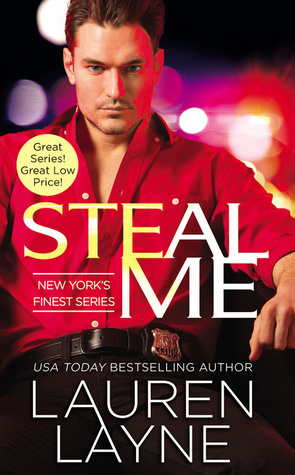 IN HOT PURSUIT

Being a cop might be in Anthony Moretti's blood, but protecting and serving the city of New York has always been more than just the family business. If that means his love life stays locked up, well then that's just another sacrifice made in the line of duty. That is, until he sets eyes on the gorgeous new waitress at The Darby Diner and suddenly Anthony's morning coffee is leaving him a whole lot more hot and bothered than usual.

Though waitressing at The Darby isn't exactly Maggie Walker's dream job, it pays the bills and gives her time to work on her novel. Now if only she could stop fantasizing about gorgeous Anthony Moretti every time he sits down at her table, she'd really be in great shape. But when he needs her help identifying a criminal threatening The Darby—and Maggie recognizes her ex-husband—she fears her fresh start might be a pipe dream. Faster than a New York minute, Maggie and Anthony find themselves in one perilous pursuit that only gets hotter with each and every rule-breaking kiss.
HUBBY'S REVIEW:
This is book two in this new series and it focuses on the older brother Anthony Moretti, or as he reminds everyone Captain Moretti. He is attracted to the new waitress that the family goes to sometimes. Maggie Walker the waitress is attracted to him also and yet she has a habit of spilling different food items, or drinks on Anthony when he comes in. either with the family or by himself. As he is trying to solve a burglary case she has own personal issues that she is going on overcoming and when his case cross over into her personal life he cannot handle the pressure that he puts himself under. He has his own thinking in his head and he needs to work through those feelings or he is going to lose Maggie for good. When he shuts himself off he does not know what to do when he decides to go the dinner, but she has quit and she is moving from her apartment. Left with dealing with feelings he must decide if it is worth the risk for love. A very good story and the characters in his family are still just as funny as the first book. I really like the grandmother. A very good book. I got this book from netgalley.
I give this 4 stars.