INN AT LAST CHANCE
HOPE RAMSAY
Posted: June 20, 2014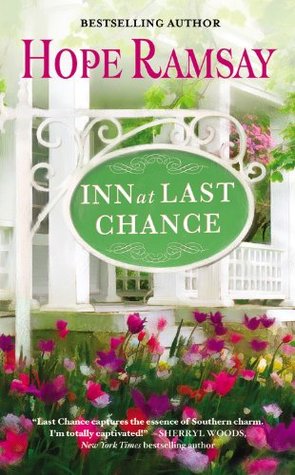 Jenny Carpenter is the unrivaled pie-baking champion of Last Chance, South Carolina's annual Watermelon Festival and the town's unofficial spinster. With her dream of marriage and children on hold, she focuses on another dream, turning the local haunted house into a charming bed-and-breakfast. But her plans go off course when the home's former owner shows up on her doorstep on a dark and stormy night . . .
Mega-bestselling horror writer Gabriel Raintree is as mysterious and tortured as his heroes. His family's long-deserted mansion is just the inspiration he needs to finish his latest twisted tale, or so he thinks until he learns it's been sold. The new innkeeper proves to be as determined as she is kind, and soon Gabriel finds himself a paying guest in his own home. As Jenny and Gabe bring new passion to the old house, can she convince him to leave the ghosts of his past behind-and make Last Chance their first choice for a future together?
HUBBY'S REVIEW:
This story you are back in Last Chance, and some of the characters always make their presence. This story begins with Jenny Carpenter, buying the Raintree mansion and turning it into a bed and breakfast. She does have her award winning pies, muffins and other sweets. Everything is fine until Gabriel Raintree, shows up and wants to buy the place back but she won't sell and he won't leave. While all of this is going on he must deal with his own demons of the past his childhood. While this is going on something else is going on in the house or he thinks it is the house. Then he does not want to leave. This is one of the better stories of the Last Chance Books. So much is happening in this book I feel it would be wrong for me tell any more of the story. I am totally happy with this story and if you have read any of the other books you will not be disappointed. I got this book from net galley.