NO ACCOUNTING FOR COWBOYS
LEAH BRAMEL
Posted: June 11, 2014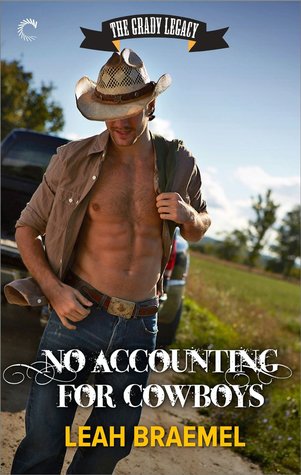 Jake Grady loves Bull's Hollow ranch and all the challenges and hard work it entails. But the past year hasn't been easy—his father's good name has been tarnished, and new financial problems are threatening to destroy everything the Gradys have built. Performing live under a stage name has become his escape, a way of blowing off some serious steam.
Accountant Paige Reynolds found Jake's guitar-playing alter ego intriguing, but her connection with the real Jake sends her attraction into overdrive. When she's summoned to make order out of the chaotic paper trail at Bull's Hollow, he sets her world a-rocking—both in bed and out. But Paige has a plan; she's determined to create her own path for the future, but is soon left scrambling for firmer ground.
Good news about Jake's potential singing career is followed by the revelation of another family secret, one that has him questioning whether he belongs at Bull's Hollow at all. But leaving the ranch would mean leaving his family…and Paige. How much is he willing to give up for a real shot at fame?
MY REVIEWS:
Family ties can either make you or break you, it's totally up to you. At some point you have to be willing to stand up for what, who, and you, you take love. Or you will forever be having to or keeping secrets for yourself or from others.
That is exactly the case of the Grady family. There are so many deep dark secrets hidden in the closets that now the picture of the perfect family everyone else saw always was so not true it is scary. To the point where the sons of Mr. and Mrs. Grady, Ben and Jake are floored with the hidden secrets of their father's betrayal of their mother. Not only that…
That he compounded that by hiring, boarding, and never telling his son that he was his father and that Jake his best friend was actually his
½
brother and Ben too. Ben and Jake's disappointment in their dad was felt deep. What troubled them just as much was their own mother's reaction to this turn of events. Upon finding the will with his remains on the night of her husband's effects the night of the car accident she ripped up the will. Causing all of them a lot more headaches, you see she asked Jake to not tell anyone what she did since he was the one who walked in on her. He agrees until he can't any more revealing his best friend Gabe is their
½
brother, to share 1/3 of the ranch.
Gabe blows up and basically unfriends him. Feeling he kept it from him to keep the ranch for just Ben and himself. Gabe gets a lawyer and things get ugly. Then is when Ben and Jake bring in a firm to go over the accounting books before the auditors come in. They know for sure the bookkeeper they had, Bonnie, was skimming money so they need to see how bad. The accountant sends them Paige Reynolds a motorcycle riding, leather wearing, and with a wrist tattoo that says, "You are the key to your own happiness."
The same girl Jake had eyed when he was singing the night before at the local honky-tonk. He chatted her up and gave her his number. Life just got interesting. The sexually hot tension between Jake and Paige was off the charts. The characters were bold, intense and funny more times than not. I liked how the story unfolded into this tangled family drama where no one within knew who to really to trust with the secrets or truths.
Jake on top of everything had been leading a secret life that he never told his brother Ben about, singing in a band. When a record producer wants to sign him and the band along with the music he has been writing for years there is only one person there by his side who gets it, gets him and understands. When all their lives are thrown into a new dimension of reality causing them all to question who they are and where they come from and what family truly means. Sending this story in a whole different direction as well as this couple and what they want out of life and each other. I really enjoy the writing and the story. I give it 5 stars.
Provided by Net Galley. Find us at: www.1rad-readerreveiws.com.