THE TROUBLEMAKER NEXT DOOR
MARIE HARTE
Posted: June 19, 2014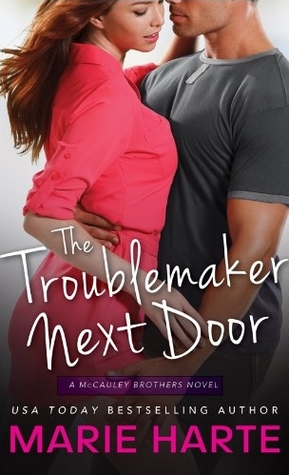 He can fix her sink, but can he wrench his way into her heart?
Flynn McCauley never thought he'd be so cliché as to fall for the girl next door. But when Maddie calls him over to help fix her faulty sink, he's a goner. Too bad the fiercely independent interior designer wants nothing to do with him. Even worse, he's forced to rely on the advice of his nosy brothers—and his five-year-old nephew!—to figure out how to make her give him a shot.
MY REVIEW:
I just love light hearted family dramas. The McCauley Brothers fit the bill. These are three brothers and one brother of the heart, Brody. Mike is the eldest who was married to Lea, who passed away, leaving their son, Colin, 5
½
(I only wish that since I did not read a book before this one or know if there is one that it would have told me why she did since the author keeps referring to her throughout the story.) Then, there is Flynn. Like all his brothers he's got a body of a sexy cut body builder at rest, but ever more handsome that Mike if that is possible.
Where Mike has that sexy thing for sure upon seeing him, Flynn, on the other hand doesn't have that cool dad vibe that makes him to sexy to a lot of women and that he's a single dad tips the scales. But, he doesn't do it alone both his brothers and Brody do the whole uncle duty without a gripe or a moan. They love and adore Colin as he does them. I have to say you will die laughing at some of the antics and things all the guys say and do but Colin is a sweetie.
Now the third brother is Cam who is the youngest of the three. The one they still tease their mom about. Saying things like is it possible she brought the wrong baby home since Flynn is a plumber and Mike is a carpenter like their dad and then there is Cam who is a Metro-sexual CPA. We don't hear too much from him in the book but he does make himself know when he does make an appearance.
Now on to the son of the heart, best friend to Flynn and his business partner who is also a plumber, Brody. Each and every one of them sexy as hell, tall, and built to last a long life. He joined the family I believe at the age of 6
½
(not too sure about the back story on that one either.)
Mike just happens to own the home next door to the house where his family first lived when they were kids. They moved before Cam was born to the home where his parents live now.
His parents bought a larger one not too far away and rent this one out. This is where the fun begins. You see at the opening of the book Flynn is babysitting Colin, Mike arrives home and while he's taking off his muddy boots the phone rings. Mike ask Flynn to take a message, he does only to find out his parents rented out the place next door two months ago. Which is funny since he is at Mike's a lot. Not only that, it is three single, sexy, and beautiful women. Their sink has overflowed because it's clogged.
Flynn offers to fix it. Shock number one, the one that answers the door, Abby, looks just like Mike's dead ex-wife Lea. Nice as can be but very funny. After several minutes into working on the drain another roommate comes in later he finds out her name is Maddie but their meet cute is one that will just make you laugh out loud.
Flynn and Maddie agree to be Bennie Friends and not two days in not saying anything to each other but knowing in their hearts it was more. Should they be afraid and run? Or stay and enjoy?
Once again a fun family saga of three brothers plus one and two cousins plus one. You have the teasing, bantering, and loving (a lot of loving not for the one that blush.) All the things I really enjoy and love in a family drama. This story did not disappoint at all. Many personalities seemed to blend well in these characters that helped the storyline flow.
I give this book 5 stars. Provided by Net Galley.
Follow us at: www.1rad-readerreviews.com