ALEX: A COLD FURY HOCKEY
SAWYER BENNETT
Posted: Nov. 26, 2014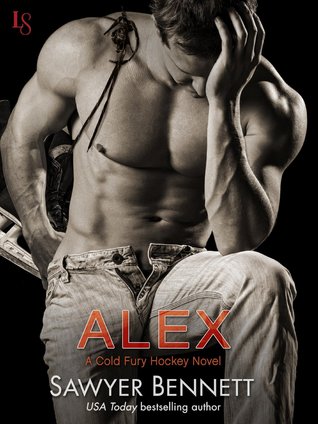 Hockey star Alexander Crossman has a reputation as a cold-hearted player on and off the rink. Pushed into the sport by an alcoholic father, Alex isn't afraid to give fans the proverbial middle finger, relishing his role as the MVP they love to hate. Management, however, isn't so amused. Now Alex has a choice: fix his public image through community service or ride the bench. But Alex refuses to be molded into the Carolina Cold Fury poster boy . . . not even by a tempting redhead with killer curves.

As a social worker, Sutton Price is accustomed to difficult people—like Alex, who's been assigned to help her create a drug-abuse awareness program for at-risk youth as part of the team's effort to clean up his image. What she doesn't expect is the arrogant smirk from his perfect lips to stir her most heated fantasies. But Sutton isn't one to cross professional boundaries—and besides, Alex doesn't do relationships . . . or does he? The more she sees behind Alex's bad-boy façade, the more Sutton craves the man she uncovers.
HUBBY'S REVIEW:
This story starts off with a hockey player named Alexander Crossman, who is a fantastic hockey player but does not like the game. The game comes natural for him and if the team needs a goal it is usually him that will come up with some outstanding play to make it happen. He has no love life and really no life to speak of. After practice one day he is order by the club management to meet with a social worker and to work with her in a program for a drug abuse awareness program for at risk youth. The first meeting he is late and she tells him to leave and don't come back. He thinks because of his good looks he can treat her like some of the other women who he has been around, but she does not care who he is. Besides she has never been to a hockey game and does not know anything about hockey. Once they finally have their meeting she realizes they are attracted to one another and this when the story takes off. He is the type of person that only thinks that his life was bad growing up. Once he finds out about her life he surprised and impressed that she has overcome what she has. As the story goes along she ends up breaking up with him because he will not deal with his past and because of that he cannot have a future. Very powerful, for a romance book. You have to read the book to find out what happens next. A very moving story and a well written book. I also like the characters in the story. I got this book from net galley.