RIDING STEELE: CROSSROADS #5
OPAL CAREW
Posted: Nov. 6, 2014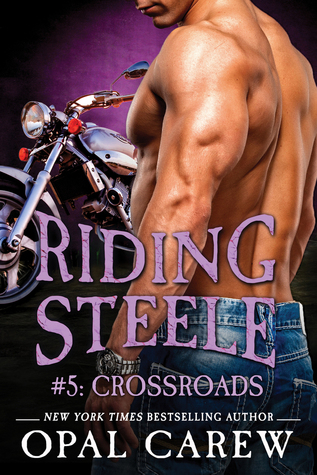 Being kidnapped by bikers is a harrowing experience, but for some reason, Laurie doesn't feel as terrified as she should. The leader's steely eyes soften when he looks at her, and the others in his gang clearly know she's hands off. But does that include
Steele's
hands? Her brain resists him, but her body insists she wants those big hands all over her.
Steele doesn't know how he wound up in this mess–with a kidnapped woman on his hands and the police hot on their trail. Now he and Laurie are in hiding at an isolated cabin, and Steele has to figure out how to extricate himself...and steer clear of his accidental captive whose tight, slinky clubbing attire is making him think all kinds of dangerous thoughts…
MY REVIEW:
This book portion and I do mean portion. As in either the author or the publisher not sure which has chosen to chop up a very good story line into so far 6 mini books. They are made up of 35 pages on the average and right now are costing $1.99 you do the math times 6.
Well, anyway, this portion is very intense. Laurie has to take the necklace that Donovan gave her to the police because he says she stole it. When really he gave it to her for their anniversary. So, she takes it in alone so as not to make the town and all the local sheriffs leery of the members of the MC. Rip says, they couldn't consult with Steele since he left that morning in a huff. As she was leaving the police station she was really kidnapped this time.
Donovan's goons took her to him and he started to torture her by sticking her in a cage spread eagle standing up naked changed by all 4 limbs. When the MC found her Steele beat the crap out of Donovan and had the guys tie him up the same way with the dog collar on too. Then, they started to leave with Donovan yelling she will bring you nothing but trouble. As they rode away she was falling asleep since she couldn't in Donovan's custody, so they all stopped at a motel so she could shower and sleep. Steele goes to pick up medical supplies for her and breakfast when the cook warns him that cops are looking for a group of MC riders.
Steele was told by the cook that there was trouble at some rich guy's country home. I have to say this had several pages I skimmed over due to the torturous ways Donovan treated Laurie. Not my cup of tea. I give this portion of the book 4 stars. Provided by Net Galley.
Follow us at: www.1rad-readerreviews.com