THE V-SPOT
WENDY S. MARCUS
Posted: Dec. 16, 2014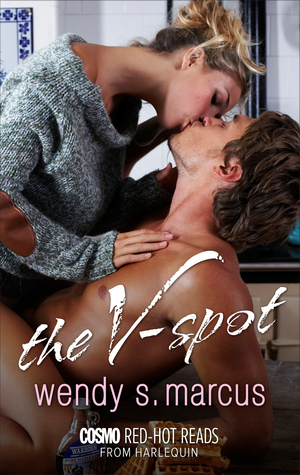 How hot is your night going to get? Take the quiz and find out!
1. You're a curvy, cute and practical nurse, ready to unleash your inner naughty nymphette for your 25th birthday. You start with...
a. Chocolate cake.
b. Champagne. Lots of it.
c. A blind date set up by your daring best friend.
2. Your guy turns out to be popular (and insanely hot) wrestler Brody "The Bull" Bullock. You...
a. Run for the door.
b. Admire his hotness, then run for the door.
c. Imagine him naked.
3. You're meeting Brody at The V-Spot, a "Voyeur Motel." What are you wearing?
a. A cute sundress with wedge sandals
b. You're not going anywhere without Spanx
c. Doesn't matter. Brody is sexy enough that it's all coming off!
If you selected all of the above, you're in for the night of your life....
MY REVIEW:
Emma Masters was a loving, caring pediatrics nurse at a hospital in New York. Not only did the children love her but the parents, co-workers, and doctors loved and respected her. She had a big heart to match her voluptuous figure. You better watch your P's & Q's. She ran a tight ship in order to keep her little ones on the ward healthy and happy.
No one knows this better than Sadie her best friend. Sadie knew Emma's birthday was coming up, the big "2-5." So, she wanted to make it special and exciting by signing her up to get her a blind date for her birthday. Sadie took this job seriously. She met every guy, they had to show their full physical exam was done, and STD screening too. What's funny is that Sadie's boyfriend told her of the perfect place for their first date.
You see Emma wanted something fun and exciting on her birthday. With Sadie's persuasive persistence as to what she knows Emma needs she says, "Every woman deserves a good f--k on her birthday. If she's not in a relationship, it's the best friend's responsibility to see that she gets it." Hence only giving Emma the address for her GPS leading her to The V-Spot a voyeur motel 3 hours from home.
Although she felt like the token fat chick she waited for her late blind date. Emma told Sadie no one who works at the Hospital could be included on her list. She was not just getting more and more embarrassed waiting, she was, "A size-fourteen woman-well, a size sixteen spanxed-down to a fourteen-in a sea of pert, scantily clad sixes." Love the humor in this book.
When her blind date arrives she is wanting to die, bail, or magically disappear. She can't find an exit to save her life. It is Brody "The Bull" Bullock, one of the wrestlers that comes to the hospital to entertain the children on her ward. She wants to die and not be caught there. Not knowing that he is her date until he walks up to her and starts talking to her about why he was late. She thinks of him and his pals as loud mouths jokers like the guys back in high school who used to tease her about being fat. So she wants no part of him. Although she thinks he is handsome and very sexy.
Brody really wants this date with her and pleaded with Sadie (when he had heard the two of them talking about her party plans.) He asks to be put at the top of the list. He has seen her gentle kindness with her patients and their parents and knows she's the type of person he wants in his life long-term. He has known her 4 years but really never met her. He needs her in his life.
I loved this story. Yes, it was very erotic in places but it was also funny, thoughtful, and hard to put down. It was a nice short story. I give this 5 stars. Provided by Net Galley.
Follow us at: www.1rad-readerreviews.com