MR. MIRACLE
DEBBIE MACOMBER
Posted: Jan. 23, 2015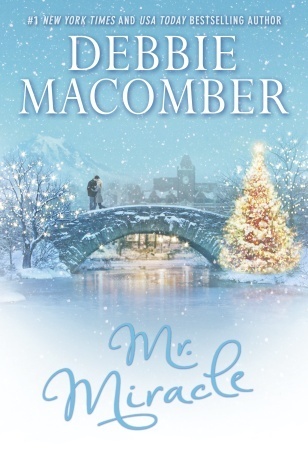 Harry Mills is a guardian angel on a mission: help twenty-four-year-old Addie Folsom get her life back on track—and, if the right moment strikes, help her find love. Posing as a teacher at a local college in Tacoma, Washington, Harry is up to the task, but not even he can predict the surprises that lay in store.
After trying to make it on her own, Addie has returned home to Tacoma for the holidays, but this time she plans to stay for good, enrolling in the local community college to earn her degree. What she doesn't plan to do is run into Erich Simmons.
Addie and her next-door neighbor, Erich, are like night and day. Growing up, he was popular and outgoing while she was rebellious and headstrong, and he never missed an opportunity to tease her. Now she intends to avoid him entirely, yet when they're suddenly forced to spend Christmas together, Addie braces for trouble.
Perhaps it's the spirit of the season or the magic of mistletoe, but Addie and Erich soon find they have more in common than they thought—and that two people who seem so wrong for each other may actually be just right. With a little prompting from a certain angelic teacher, the two are in for a holiday miracle they'll never forget.
HUBBY'S REVIEW:
I did not care for this book at all. Every time you started to get into the two main characters, Addie and Erich, who had lived across from each other as children and now are adults and are put together so their mothers can go on a curse together that they had plan for some time. As they start to work out their past and maybe a future, in comes the two angels Harry the one trying to help Addie find her way and his mentor Celeste, who tries to guide Harry who for the first part of the book acts like a know it all and only seems to get into trouble. I just felt like the story was too much of Harry and not enough of Addie and Erich. There was no depth to the characters and why she felt so much hurt by Erich that she could not say okay to a relationship when you compare her writing of characters in other books with this one. And when she has opened to Erich about a situation the story jumps back to Harry the angel. So much so that when you get to the end of the book the epilogue is about Harry, Celeste is talking to him about Addie and Erich, WHAT ABOUT THEM, he says they had a break through really. Maybe it is me I read to many history and action books, but I missed the break through and I am not going back to re-read it. Any way Harry is staying and I won't be reading the next Mr. Miracle book. I am giving Debbie Macomber, a little pass for her other books that I have read were good. I got this book from net galley.