TOUCH & GO
MIRA LYN KELLY
Posted: Jan. 5, 2015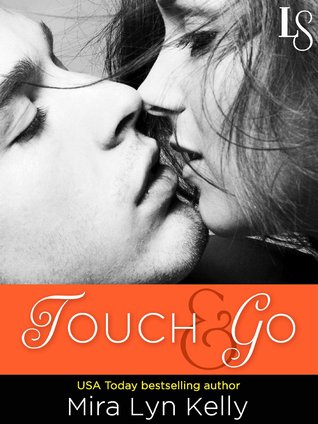 Vivacious and successful, Ava Meyers is living her dream life, except for one thing: Ever since childhood, she's been in love with her best friend . . . and she's never admitted it. Back then, Sam Farrow was a damaged young man with a tough past. Now he's supremely confident, super-sexy, and totally untouchable—until the night when Sam pretends to be Ava's boyfriend to save her from some unwanted attention. In a moment of weakness, Ava finds out that a long friendship is no match for blistering sexual chemistry.

After years of denying his own feelings, Sam finds that one amazing night with Ava isn't enough to chase away all the pent-up fantasies. So he proposes they spend a few weeks driving each other wild, exhausting their every desire, and then return to their perfect platonic relationship like nothing ever happened. But Sam's plan has one fatal flaw: the part where they give each other up. Because the more they let go of their inhibitions, the more they're tempted to never go back.

Includes a special message from the editor, as well as an excerpt from another Loveswept title.
MY REVIEW:
How do you learn to trust enough to truly believe in someone else in order to give them your love and vice a versa? That is what is going on in Ava Meyers, 28, and Sam Farrow, 29. You see they met when Ava was seven and they have been best friends slash brother-sister ever since.
Since that very moment Ava had been in love with Sam. She was a girl that knew what she wanted but smart enough to know what it would cost her if her or anyone else found out but especially what it could cost Sam. She knew some of Sam's deepest secrets. She never wanted to lose him.
That what Sam was always afraid of once he became embedded into the Meyers' home. You see the day he ended up at Ava and her older brother Ford's house he was hiding from his drunk dad. He had luckily that time escaped a beating so when little for her age Ava came over and introduced herself he couldn't hardly talk. You see not many talked to him he was from the wrong side of the tracks, his dad a drunk, his mama who said she'd come back for him hadn't, and he always looked unkempt. Ava and the Meyers' never cared. By Jr. High they had given him the extra bedroom in the basement for his own, when they walked out he laid down and cried his eyes out that first day.
For Ava she continued to be Sam's best friend. Even when she went off to college. Lines were never crossed ever. As they got older sleepovers had to stop which saddened Ava but Sam felt out of respect for Ava's parents and brother and their age. Plus at 10 he had promised Ford that he would not marry or date Ava after all. (Have to read to understand
J
)
Now though Ava needs a man to be her date to a business party. Sam is her usual go to guy but he said no can do because he was booked already. But there is a guy at work that is zeroing in on Ava and wants to date her so she needs a favor and is asking her girl BFF, Maggie Lawson to let her borrow her fiancé Tyler for the evening. Maggie says no! So, Maggie calls Sam' cousin Tony to take her and Ava goes ballistic because she might as well date Steven the guy that is after her at work it would be the same thing with Tony. Tony is man whore or so he says and Ava thinks he's creepy.
When Tony calls Sam to tell him that Ava finally relented and is going on a date with him Sam tells Ava NO! So, Sam cancels his date right there in front of her and says he is taking her. One lip smacking kiss to show Steven from work they are really a couple has them hot and bothered. The world as they know it has been turned upside down. So, they try another kiss and now it's time to go home and see where it leads.
I totally enjoy the funny erotica. It really had a fun cast of characters. I give this 5 stars. Provided by Net Galley.
Follow us at: www.1rad-readerreviews.com