Guess who's Interview is coming?
Book #2
Nikki Case is no fan of baseball. Her ex gambled away a fortune on the sport, and now her PR firm has tasked her with cleaning up the league's most notorious bad boys. The New Jersey Sonics are known for wild womanizing and booze-fueled brawls, so Nikki expects the worst. Her first stop in the battle to win hearts and minds is star hitter Jake Baldwin—a legendary ladies man so smokin' he threatens to melt her tough-girl armor.
Although his teammates prank her without mercy, Jake admires the way Nikki gives as good as she gets. She may be the queen of frost, but there's kindling beneath those sultry curves—and he's just the man to ignite it. But when a PR nightmare lands the Sonics in headlines across the country, Nikki is ready to walk. Only then does Jake realize how important she is to the Sonics' success—and that winning the love of a good woman is no game.
MY REVIEW:
When you have a winning team who has begun to believe the hype about their greatness what then? You know the wild off hour parties, drunken behavior, and barroom fights. Not the image you want your team to portray. You go looking for the best person for the job and that just happens to be, Nikki Case, PR rep.
She has been brought into change the image of the team to make them a team parents would want their kids looking up to. On her first day on the job within 5 minutes of talking to the team she managed to get their best pitcher Chase suspended for sounding off during her shpill. Then, she got Jake Baldwin their shortstop benched for being late. Things were going to change Mr. Caine, the GM, had given her full rein of the team.
When Jake did arrive they found out he had over slept due to the flavor of the girl, from the night before, he was so tired.
That's when Ryan came up with the bet before telling him. 1.) He was benched. 2.) Who the visitor is. The bet being that he couldn't get a date with any woman like he said he could. Because they knew of a woman it would never happen with. Jake said no way. He took their bet even with the high stakes and they pointed out the woman and said not only did he have to get a date with said woman but make her fall in love with him. He said not a problem. He said, now who is she? They all pointed to the new PR rep Nikki Case…?
This is one sweet, funny story. I enjoyed it a lot. I enjoyed the interaction between Jake and a young youth he befriends, very endearing. The relationship between Nikki and Jake hot and steamy but the team as a whole was funny just mean at times. I loved Pete the head coach and his backbone and kindness to back Nikki's play for the good of his team. There were a lot of slow transitions between scenes compared to the first book. I give this 4 stars. Provided by Net Galley.
Jake Baldwin, is the shortstop for this team in the book and is also a playboy. He is given a bet by some of the players on the team to get a date or get the new PR person Nikki Case, to fall in love with him. The main reason they are doing this is she has been hired to change their image and though they don't like all of the new rules it seems to be working. They go out a few times and then it starts to get heated between them but he is still UN sure of himself if he wants a full time relationship. While this is going the team is starting to play practical jokes on her which were okay until the one where they have her show up at a restaurant thinking she was going to be with the whole team and she finds out it is just her. I know that no women likes to be stood up and for me this one was not a joke it was just mean. There are also two other story lines going on one is Jake helping a young boy who tried to steel something from his car and he is mentoring him, and then you have Jake's mom. The boy and his mother you find out what happens at the end but the mom is just left off after one night when she calls after drinking too much. It would have been nice to find out if she gets any help or not. I did like Nicki's sister that character was good along with the coach who had a bigger role in this book than the last one. Overall not a bad book I just liked the authors book before this a little better. But still a good read. I got this book from net galley. I give it 3 stars.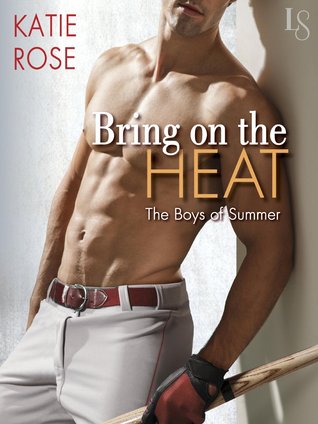 Book #1
House-sitting for a rich and famous friend has its perks, and Darcy Hamel isn't shy about enjoying them. Especially when it means scoring a ticket to an exclusive fashion show hosted by the New Jersey Sonics. An avid baseball fan, Darcy has always dreamed of meeting the team—especially the starting pitcher whose body is as hot as his fastball. But there's a catch. The gala is by invitation only. To get behind the velvet rope, mild-mannered Darcy will have to pose as party girl Lydia Logan.
Schmoozing is one of the downsides of fame, but Chase Westbrook knows how to liven up even the dullest event. And nothing spices a night up more than a beautiful socialite with a naughty reputation. What Chase doesn't expect is a hint of sweetness beneath her sultry façade. Flirtation turns to seduction and leaves him aching for more. Chase just doesn't know who the real Lydia is: the spoiled tease crying foul over some missing diamonds or the alluring woman making a play for his heart.
The deep love of a favorite pass time is what brings these two unlikely people together. You see Darcy Hamilton, 24, an only a little over a year out of a relationship with a guy who started bedding one of her co-workers and then said she was boring made a change. She decided a man change and job change was in order and was hired by Lydia Logan an heiress to a potato chip company. Now, Darcy is her personal assistant not just a house sitter that she was originally hired for.
Lydia was once again going out of country and Darcy would be house sitting, paying any bills that may come in, and "Oh Yeah!: she would get to go in Lydia's place to the fund raiser where the whole Sonic baseball team would be. They would be there to visit with and sign autographs and take pictures with guest. Lydia said she could wear one of her outfits and get her hair done at the standing appointment she had for herself. As long as she had anything she wore dry cleaned when she was done. The thing is the ones that did her make-over, did it in a way that it made her look to much like Lydia.
Now one of the players and the man Darcy so wants to meet is Chase Westbrook, 25, and the pitcher for the Sonics. He heard that Lydia Logan might be there so he got on the internet and looked her up. He say all her miss haps sexual and otherwise. He knew just how dull these fund raisers could be but with the possibility of Lydia showing up with all her antics makes it something to look forward to.
When she arrives she arrives as Darcy Lydia's assistant but because she looks so much like Lydia not one person including…you guessed it Chase would listen. She tried to tell him several times but after a while she just stopped trying. All that she wore shoes, dress, earrings, and her total make-over told everyone she was Lydia. The thing about it was he liked that she wasn't as made-over as in pictures or surgically enhanced that her breast were her own. Most of all that she was down to earth and easy to talk too. There was a spark that was there for him and an instant jealousy that he got when other men seemed to flack to her.
Darcy from nerves starts drinking for her far too much. So, after Chase does his fashion show stint he takes her to her car and finds out she can barely walk so he says he will take her home. When he ask where to she says his place. They start petting when he leaves to shield himself she falls fast asleep. At first he feels slided but then he see that the morning sex could even be better since she will not be drunk for one thing and he sees that she is not the big partier that they talk about in the rags. He knows she didn't have that much to drink. But when he wakes in the morning she is gone but she has left behind her very expensive earrings so he knows she will have to call him back. The game of "Chase" will now begin.
Darcy when she woke and realized that she was in Chase's bed and in his room she panics. She gets up gets dress and leaves and calls Cara to come and get her. When she remembers the earrings. That's when Cara tells her she will have to continue to play her boss. Darcy know that her life has just now gotten so "not boring."
This book is beyond funny. Poor Darcy gets in so deep all because she listens to her friend Cara really. If she would have just come clean and gone back to Chase it might have been okay. But we would not have all the mishaps that we have the fun reading about. Part of the responsibility lays with Chase he only heard what he wanted to hear that first night even though Darcy tried to tell him. Not to mention he allowed his jealousy to take over when he found all the men gathered around her. This is the beginning of an affair and mishaps you won't want to miss.
The thing that I found most interesting throughout the whole story is that Darcy never owned her own beauty. That she was worried that she was too heavy compared to her boss yet Chase found her and her body most appealing. She never saw herself as her boss although she must have been if she fit in some of her clothes. I think there is so much underlying in this peace about how we wear our clothes as shields to mask what is really going on. That with them people only see what we want them to see or what they want to see. So which is right?
I really enjoyed the antics and humor that was woven into this story. I give this 5 stars. Provided by Net Galley
Follow us at: www.1rad-readerreviews.com
This is a very funny story at times. Lydia Logan, is a rich party girl who is leaving the country and tells her assistant who is also house sitting, Darcy Hamel, that she can go to a charity event for the baseball that Darcy has followed most of her life. She gets her hair done, nails etc… Once there, she realizes that she forgot the invitation but when she mentions the name Logan, they believe she is the real Lydia Logan, even though she tries to explain know one well listen so she just goes in with Chase Westerbrook, the pitcher for the team and the guy she has had a crush on for a long time. He is attracted to her and can't believe that this is the same party girl that everyone has talked about. After the night ends the story begins to snow ball for her and though she is trying to tell him who she really is he does not give her time and she gets caught up in the moment as well, until the day the real Lydia finds out what has been going on and comes home. He is devastated and so is she. Lydia looks at this as a way to get back into the good graces with her grandfather. But Chase sees right through her and does not want to be with her and is surprised when all he can think about is Darcy, but how is he going to get back together with her. You have to read the book to find out. This was a fun story to read and I like the characters a lot. I give this 4 stars.