AIMEE AND THE HEARTTHROB
OPHELIA LONDON
Posted: April 22, 2015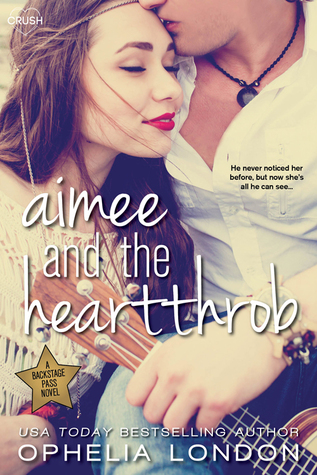 He never noticed her before, but now she's all he can see…
Miles Carlisle is every teen girl's fantasy. His rugged good looks and exotic British accent have helped catapult his boy band, Seconds to Juliet, to super-stardom. But after two disastrous and very public breakups, Miles isn't interested in dating just any girl; he wants The One. And the only girl he's interested in is not only his best friend's little sister―and off-limits―but won't even give him the time of day…
As a kid, Aimee Bingham had a huge thing for Miles…until he made fun of her for always tagging along. Now that she's outgrown both him and her pigtails. the prospect of spending two weeks on tour with the childhood crush who broke her heart isn't exactly enticing. Except now Miles seems interested. Very interested. And no matter how hard Aimee tries to resist him, her crush is definitely making a comeback.
But everyone knows that falling for a heartthrob is a backstage pass to heartbreak…
MY REVIEW:
When your parent's divorce that's trauma enough for a 12 year old. But, to move you from the UK to America is beyond what can be asked of any young boy. His dad had cheated on his mom changing his view for a while.
Miles Carisle is now "The Heartthrob" of all young girls everywhere that follow his band "Seconds to Juliet." His journey there was a hard one. If it weren't for his dear friend Nick Bingham and family he's not sure he would be where he is today. When he met Nick through the Big Brothers program, Nick's class went to his school once a week, an integrating program. They met the first day but he wouldn't talk, a total loner and all pissed off.
When Nick found him by the CD player they bonded over their love for music. From there they started hanging out after school and Nick's teacher felt like he needed to email Nick's parents to let them know about Mile's history. Nick's parents being who they are doctors out to save the world and will to take anyone in to their home and family did just that and Mile's mom too. Nick's teacher only made his parents open their arms wider.
Miles was just pissed at the world. His parents had split up, his dad's was caught cheating, and his mom didn't give him a choice by moving him here to the USA. Looking back now Nick is sure he was depressed too.
Nick described him back then as smart, passionate, and angry with nowhere to harness it. That's when he found music and joined the school band. He continued to warn Aimee (Nick's sister who had a crush on Mile's since before he was famous) that he may have changed some things in his life but a lot was still the same like his temper and his short fuse. He's used to getting what he wants-whatever girl he wants too.
Aimee's wall would get two bricks in place then lose one. How can any of what Nick told her be true? She had never seen any of that. He was patient and sweet even when she was being a total brat. He was strong, confident, and sure of everything in her eyes. Was that just her old crush talking?
She wasn't willing to stick her heart out again. Not to mention her brother's warning. Last year she dated a guy who was from Italy but then after a semester he had to return since the allotted exchange was over. He said he was going to talk to his parents about coming back to go to school not to worry he would come back he promised. She waited and she heard and saw nothing of him. Until, Becky (her friend) was on Instagram and called her to get on. She did. Finding out her guy has a new girlfriend-no wait in fact she is his longtime girlfriend that Aimee never knew about. He had been cheating on his girlfriend with her, Aimee.
First, Miles and then him the "Italian Squid." (My words not the authors.) She was not willing to go there again especially with a guy who would never be around for her. He would be on a tour bus having millions of girls screaming and who knows what else to get his attention. Then the bricks got higher as she was told by her parents she had to be on the tour for 3 weeks since her friend Becky got mono so she couldn't stay with her until her grandma got home from her vacation. Her parents were called early to go to Doctors without Borders. Since Nick would be interning for the summer with Miles band as a roadie mom called Marsha, Miles' mom, to arrange her staying with them for 3 weeks. Aimee was not happy with the arrangements.
You see Aimee used to be Miles' Biggest fan. Had a major crush on him. She even had a blog about him. Until her brother, Nick, told her the truth about what Miles thought of her. Nick said Miles thought that she was a pest who had always had been a tag-along. That crushed her crush. She got rid of everything Music, posters, magazines, memorabilia, and asked Becky to get rid of the blog.
Her first day on tour, Miles walks up to her as if he knows her and then it becomes very clear he had no clue who she was. The funny thing was that he looked at her in a sexually interested male. Then, her phone rang and she said she needed to take it and walked away. When she returned to the spot she saw he was talking to Nick so she thought well Nick told him who she was. When she was only a few steps away she heard Nick say "Bro Code" and "Stay away and don't make me hit you." Miles looked shocked when he looked at her again.
You see she had a growth
spurt
over winter/fall, her hair was longer and not so curly, and her boobs well grew too. She was smug, a little hurt and a whole lot of MAD! She played it off. At first they just circled each other and then they ended up clearing the air…
This was such an enjoyably sweet love story. The writing keeps your interest all the way through. In your mind's eye you could see the shenanigans unfold and find yourself smiling. There was such an innocence to this story that you rarely see anymore. Two people having an inner love, friendship and yet having good clean fun. I gave this 5 stars. Provided by Net Galley.
Follow us at: www.1rad-readerreviews.com