ONE NIGHT WITH HER BACHELOR
KAT LATHAM
Posted: April 15, 2015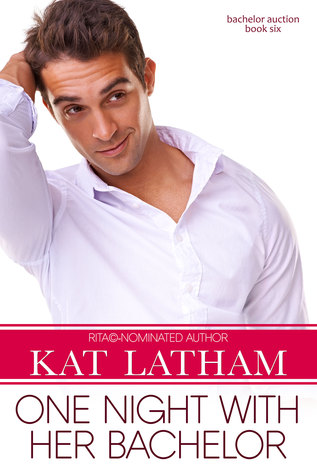 Bid on a date with this wounded warrior for an unforgettable night of adventure. Aim high—and bid higher!—because no one comes close to local hero Gabriel Morales.
Molly Dekker
hates being the town charity case, but when her son Josh is seriously injured she has no choice. She lets her best friend organize a bachelor auction to help pay her massive bills and make Josh's life more comfortable. She can't bid on any of the men, but a surprise bidder gives her a gift she never expected: a date with the man who saved her son's life—the only one she's in danger of losing her heart to.
Former Air Force pararescueman
Gabriel Morales
made a career of flying to the rescue, until a tragic helicopter crash stole more than his livelihood. Being auctioned off like a slab of beef isn't in his recovery plan. But one look, one touch and one night unlocking Molly's pent-up passion makes him realize how badly he needs to be rescued…and how badly he wants to rescue Molly right back.
Will Molly and Gabriel's never-quit attitude have them rushing head-first into love? Or will Gabriel's secret pain stall their relationship before it can get off the ground?
MY REVIEW:
Okay call me a sucker for love but you add a military man who was injured and damn who can resist? Not me. This is a book that shows that with a disability you can make it back some make have a hard time finding that way back and a new way of doing things and others will just ROLL with the punches.
I have to say that throughout the story I heard Sam Elliott's voice and the looks that he had in the 1970's with dark hair and tan. Gabriel Morales is a man's man. He wants to live off the land and be left alone. You see he and his best friend Scott Dekker knew each other since forever. They went all through school together, college and the Air Force too. But on their last mission he was the only one made it home alive. Unfortunately, the one thing he didn't get to do with Scott was attend his funeral with him for he was in Germany being treated for his injuries.
Gabriel seemed to have forgotten really that Scott had a sister. He was so focused once he got back to Marietta, Texas to stay off the grid. Which was easy for him to do since his grandpa had left him his cabin up on the mountain but it had no water, electricity, or shone just the basics. Being trained well Gabriel was able to make it work and well. He only came off the mountain to get food and other supplies.
One day after almost a year he runs into Molly Dekker, Scott's sister, at the grocery store. She doesn't have a basket so she drops all her things on the floor when he bumps into her. Shattering everything breakable. They say Hi! And just stare at one another as they wipe their shoes. When it starts to become awkward Molly's 10 year old son Josh, who she is raising alone, comes running up chattering away.
For Molly she felt a connection. For her not only was Gabriel her brother's best friend but her was her all time crush. The guy she has dreamt about since she was 10 years old when she fell in love with him. Josh is just so hyper that she has to focus into him gladly. He is always moving just the way she always did. Seeing him and the way he is so hyper jars memories for Gabriel of Scott saying that Molly got divorced like 5 years ago from the douchebag she married. At that point they nod goodbye.
That next Saturday Josh is off to a 2 night camping trip with the scouts. Molly has decided to do the same. She not only wants to catch up with Gabriel but she down right wants to get laid! She knows she can trust Gabriel he was always a nice guy to her and her brother said so. She takes the 3 miles trek up the mountain and surprises him. Boy was he surprised.
When things start to heat up she hears on his two way radio the rangers mention her son's name and his friend and that they are missing. Also the spot of their last location and that they are starting a search and rescue. She goes crazy looking for her phone. Gabriel tries to get her attention 3 times to let her know that there is no cell service up there. She cries out again that she needs to use her phone to call so she decides to leave. But he know she is to upset and would end up getting lost since it was getting darker too. He tells her that she needed to get ready for they would be taking the motorcycle. He grabs his emergency kit like the one he had in the military minus the guns and ammo of course.
He thinks of the place he would go if he were a kid they go there and sure enough danger had befallen Josh he had fallen into a mine shaft. Gabriel had to order Molly to stay away from the hole for Josh's safety as well as her own. Even with Gabriel's bad leg he was able to get him out, before the mine collapsed. Unfortunately, Josh lost the use of his legs for good.
Molly got behind on bills so her friend Lily, Josh's godmother, decides to have a Bachelor Auction on her behalf. Which is a good thing because Gabriel had gone into hiding feeling guilty for enjoying the fact he was needed in the rescue and able to do it in spite of his leg. Molly too was feeling guilty because while she should (her thoughts) have been at home for that "just-in-case-phone-call." She was trying to get her groove on.
Can these two get past there issues? You have one who can't share his feelings at all. Then you have another who shares so well she scares the heck out of the poor guy. At one point they have a moment when their sharing and she's telling about how she met Lily at Josh's birth. Could not stop laughing. Not the story Josh knows about his birth that is for sure. Hilarious!!! I give this story 5 stars. Provided by Net Galley. Follow us at: www.1rad-readerreviews.com