IT'S KIND OF A FUNNY STORY
NED VIZZINI
Posted: May 19, 2015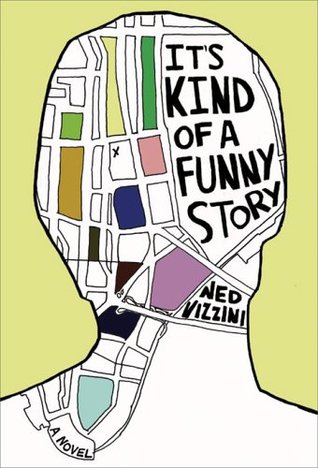 Ambitious New York City teenager Craig Gilner is determined to succeed at life - which means getting into the right high school to get into the right job. But once Craig aces his way into Manhattan's Executive Pre-Professional High School, the pressure becomes unbearable. He stops eating and sleeping until, one night, he nearly kills himself.

Craig's suicidal episode gets him checked into a mental hospital, where his new neighbors include a transsexual sex addict, a girl who has scarred her own face with scissors, and the self-elected President Armelio. There, Craig is finally able to confront the sources of his anxiety.

Ned Vizzini, who himself spent time in a psychiatric hospital, has created a remarkably moving tale about the sometimes unexpected road to happiness.
Dezi's Review:
A teen novel, published in 2006. The idea of this novel was inspired by his hospitalization in 2004 for his depression. It is told in the first person by Craig Gilner. He is a fifteen year old that attends a prestigious school in New York. He becomes stressed by the school's pressure, his crush never liking him because she is dating his best friend. Feeling like he doesn't fit in.
Eventually, the stress turns into an eating disorder, the use of pot, lack of sleep, and suicidal thoughts. Craig is prescribed Zoloft and he is okay for a while. But, when he believes he is cured Craig stops taking Zoloft. The effects of this is his depression worsens. When Craig's mind leads to suicide one night, he calls 1-800-suicide.
He admits himself into the hospital and they admit him to the adult psychiatric hospital because then the teen side is under construction. The rest of the book Craig's six days of being admitted (minimum number of days to be admitted.) I won't tell you anymore than this so you can read the rest.
This 444 page book is one of my favorites. It deals with real life issue. No sugar-coating of anything. It is specifically a teen/young adult, so do not let anyone younger than fourteen read it. Warning: Does Talk About Drugs, Sex, and Personal things. I give this book a 4.9-5 stars.
I HAVE TO LET YOU KNOW THAT THIS WAS WRITTEN BY MY 14 YEAR OLD DAUGHTER. AS A MOM I AM SO PROUD OF HOW ARTICULATE SHE IS WITH THIS PIECE AND THAT SHE WAS SO AWARE THAT SHE WAS THOUGHTFUL ENOUGH TO INCLUDE THE 1-800 NUMBER. SHE HERSELF HAD STRUGGLED WITH THIS ISSUE FOR A VERY SHORT WHILE BUT WAS ABLE TO WALK THROUGH IT WITH MEDICATION, COUNSELING, AND A LOT OF LOVE. OUR KIDS ARE EXPOSED TO A LOT. FOR HER IT WAS BULLYING. THE PRESSURES NOW ARE SO DIFFERENT THAN BEFORE. I HOPE YOU ENJOY HER REVIEW AND THE BOOK IF YOU CHOSE TO READ. THANK YOU.