CRUSHED
LAUREN LAYNE
Posted: June 21, 2015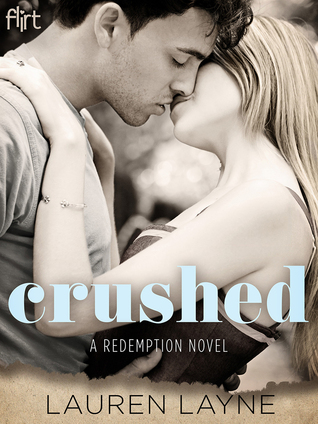 Growing up in New York, Michael St. Claire never expected to spend his twenties wearing cowboy boots. But that was before he learned about his real father, a total stranger with a family in Cedar Grove, Texas. Once in the Lone Star State, Michael meets Kristin Bellamy, who is exquisitely refined and everything Michael always thought he wanted in a woman. The only problem is that Kristin is dating Michael's new half brother, Devon.
Kristin's mouthy, curvy sister Chloe has always been in love with Devon Patterson. So when Michael offers to help Chloe break up Devon and Kristin, Chloe agrees to a deal that seems too good to be true. Before long, Chloe finally gets her man, only to make a startling discovery: She no longer wants the guy she had to fight for—she wants the one who stood by her side.
After all he and Chloe have been through, Michael swears he's damaged goods. Can Chloe convince him that love is worth the risk?
MY REVIEW:
A modern day ugly duckling with so many twists and turns. You will find sister jealousy, betrayal by those who should love you the most, love triangles, secrets at every turn, and so much more.
This begins with wealthy Michael St. Claire (24) finding out that he is not the son of the man that raised him. What makes it worse is he finds it out after coming home from Maine feels defeated and unloved. You see he had thought he was finally getting the girl of his dreams, Olivia.
You see Olivia, Ethan, and Michael had been the golden children of the upper east side of New York. They went way back. Ethan was like a brother to him. When he and Olivia got together he was crazy enough to fall in love with is best friends girl. For he was secretly in love with her too. This went on for years. Then there was a falling out to be revealed by you reading it. Hahaha!
So, when he comes home his are in an argument and he overhears the long kept secret that he questions his parents on. He finds out the sad fact from his parents that his mother that she had an affair and he was the product of that affair. She tells him that his father his from Texas and his name is Tim Patterson. From there he does a search and leaves with a duffle bag and goes to confront him. He chickens out and decides on a new plan when he finds out he has a son who is 22 years old. He finds a job at several business that he can run into his brother Devon, the gym as a personal trainer, the Cedar Grove Country Club as a pro tennis, and at the local bar as a bartender.
He figures out his brother Devon and his girlfriend, Kristen Bellamy (who is a knock-out.) Guess what she takes at the country club? You got it tennis lessons from him. He figures out soon that she is royal tease unlike all the lonely housewives he started servicing during their lessons. When one day during their lesson an outspoken, curvy, lush wild haired, and mouthy girl sits eating candy to watch and taunt Kristen. He strikes gold after a few weeks when Devon comes home from college when he graduates. Seeking out his girlfriend Kristen whom Michael teach at the country club he comes there to surprise her.
As Kristen runs over to him Michael notices her sister, Chloe, pulls into herself and yet can't take her eyes off of Devon. Michael starts to devise a plan. A way to get Chloe to be his muse as well as a patsy to get to Devon. Like he was working on Kristen. When Devon notices Chloe he comes over pulls her up into a bear hug. She congratulates him on his graduation. He tells her she looks great but she puts herself down, Michael noticed, since she met them with humor before anyone else can put her down. Devon tells her it's not true and she's perfect as who she is. Chloe's like in her head thinking, "Right that's why you were my friend first but your dating my skinny sister."
When introductions were over and the happy couple leaves Chloe takes off to the club house to find air conditioning and her favorite nook to read. When Michael comes up behind her and tells her she needs to move on. That Devon is not going to one day wake up see her for the amazing person she is. She basically tells him thanks Mr. Grouch! He tells her if she wants a chance though he could help. You see he's a personal trainer. At that moment her eyes showed an instant of pain before she can back away, with a witty response. He tells her not for weight loss but for conditioning and better health. No scales, no junk food involved.
The next thing you know "Beefcake" as Chloe calls him is at the gym making his life a living hell. He puts up with is because she's his in. She knows he's up to something but can't figure it out. She knows he's not doing it out of the goodness of his heart. But as the story progresses the ugly duckling gets noticed and yet empowered but not the way she wanted. What she wants is the one that saw her before she became a swan.
What a fast pace deep at times moody read. One you could see unfold before your eyes. The characters are real and Chloe is beyond funny and beyond heart wrenchingly truthful in her depiction of what most Big Beautiful Women experience. Everyone always thinks they have a right to tell you how you should be and look. Words hurt and Chloe shows that in this story. The ones that loved her hurt her the most it seemed. Yet, she kept going smiling through the pain. She remained positive when others vainer would have crumbled. I give this 5++++ stars. Provided by Netgalley.
Follow us at: www.1rad-readerreviews.com