DEAL BREAKERS
LAURA LEE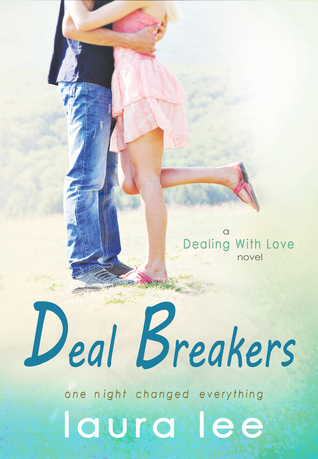 How were they supposed to know that one night would change everything?

Devyn has life all mapped out. She just needs to accomplish one more thing before graduating college and becoming a full-fledged adult—lose her virginity. And who better to assist her than her best friend, Riley?

Riley is the self-proclaimed king of fling. His college years have been filled with meaningless hookups until the one night that ruined him for all other women. The one night he spends with his best friend, Devyn. Right before he screws it all up.
Balls to the wall, baby!

Now five years later, Riley is determined to atone for his mistakes and prove that he can be the man that Devyn deserves. Little does he know that Devyn's been keeping a secret from him all these years. A big secret. Now he has to figure out how to win back the only girl he's ever loved while navigating the pitfalls of her unexpected revelation.

Deal Breakers is filled with lots of laughs, a sexy romance, and an overflowing swear jar.
MY REVIEW:
I absolutely loved this book let's be clear about that. This author's gift of words is fabulous! She uses humor like whip cream on a sundae liberally. Yay! It's all gooey and sweet and hilariously funny too. The characters are so down to earth and real you either know them or are looking to meet them soon.
This story revolves around Devyn Summers and Riley McIntyre. On their very first day at college Riley and his roommate Josh see Devyn riding up to the bike racks to lock up her bike. He can't take his eyes of her. He just can't believe his eyes. To him and just about every other guy within viewing distance with their tongues hanging out, she is a Victoria's Secret Model dressed down. You see Devyn was in a faded pair of jeans, a simple pullover top, and shoes. Her backpack was worn, and her bike was older with hand painted flowers on it. She has long blond hair and no makeup. She wasn't showy like the other girls. In fact, Riley had a feeling she had no clue at just how beautiful she really is.
So he comes up with a plan on how to meet her. When he walks up to the bike rack she is already halfway to her class. So he decides to park his bike right next to hers. Then he twines his lock to her frame then to his frame on his bike, then locks them both together. That way she can't leave without him meeting her. He gets there after his class and waits off to the side not to be creepy. When she arrives she is clearly upset to see what has happened to the bikes. She looks around to see who could have done this Riley goes over to ask if he could help. She says some idiot locked their bikes together and she needs to get to her next class across the campus. He says let's see if I can help. She asks what he thinks he can do? He unlocks it with ease and she laughs as he holds out his hand and says, "Hi I'm Idiot." She burst out laughing and a friendship is formed for her.
Riley on the other hand was already known for his womanizing to the guys and they were both only freshman and new to the school. To the girls he was the hot ticket for that one hot night with him in bed. He asks her to go to the sports bar to watch the football game and have a few beers. At first Devyn's like I'm only a freshman. He tells her he is too but that the sports bar only cards the ones buying the drinks not the ones hanging out. She says that she would like to go because she's a huge 49er's fan and oh the challenge was on he's a Seahawks fan and that was who they were playing. He was so excited that not only was she hot she liked football too.
She explained she loved all sports that she used to watch with her dad and brother all the time and her mom would make the best nachos. But was not a fan of drinking. He said great it's a date, she stops dead in her tracks and says no it's not. She tells him she likes him a lot but that she is only looking for friendship that a boyfriend or dating doesn't fit into her plans right now. School is her main focus. She says she can really use a friend, a good friend, otherwise no deal. Riley was like sure why not. Yet, in his head, he was like I need to work a way out of the friend zone and teacher the art of drinking tonight.
That night at the bar when she arrives all the guys in the bar turn to watch her walk in. Including the chump Riley was playing against in the game of pool. Right off the bat as she is walking toward them he calls dibs even though he knows this was not a date. He just needed the chump to know she was off limits and he didn't need to know it wasn't a date. The chump was a total player and went through girls like water. He didn't want Devyn to be in his crosshairs. That night he finds out that both her parents had passed away and that her big brother has moved to Seattle. So basically she was all alone. Not to mention he was permanently in the friend zone now. In order to be around her for all for years he would do it too. He felt a need to protect her and he just felt connected to her and he felt a need for her. She was that girl you want as that friend who could be more. Not forever but more because "The Riley" didn't do forever just a week at the most.
The day before graduation both their lives changed forever. Days before that Devyn had gone to Riley and asked him to take her "V-card." Promising that nothing would change for them and that there were no strings attached. He about had a heart attack because he thought she already had lost her "V-card." It blew his mind she hadn't and that she had never told him that tidbit. But he felt honored that she had chosen him. Although he knew he had to make it special. One because it was Devyn and also because it was her first time. Now five years later that one night stand to give her "V-card" to Riley carried a huge secret.
I loved this story. It was beyond funny! The characters were so warm and loving to one another as well as so completely in tuned with each other to a point. Which is so true in any relationship. the author's phrasing for the certain funny scenes had me rolling. Devyn's brother Drew and best friend Rainey cracked me up. That jar idea I would be like Drew and have to pay in advance too. Loved it. I give this 5++++ stars. Provided by netgalley.com. Follow us at:
www.1rad-readerreviews.com.