GOOD TOGETHER
CJ CARMICHAEL
Posted: Sept. 15, 2014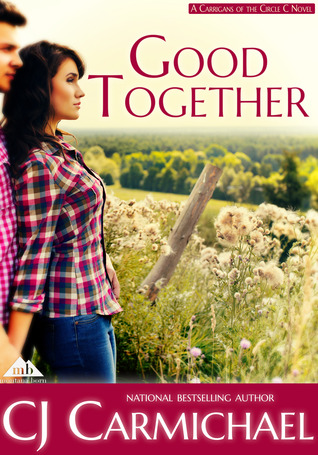 Some love stories have to begin with a falling-out-of-love story. Mattie Carrigan's been helping her rodeo cowboy husband Wes Bishop run his family's Tennessee Walking Horse operation since they were married nineteen years ago. Blessed with twin daughters who've recently left for college, Mattie is looking forward to this new stage in her and Wes's life. But when she finds a strange key in her husband's jacket, she's forced to admit that Wes has been quiet and distant lately. Turns out he has been keeping secrets. And he's not the only one. Even the rancher next door, Nat Diamond–a friend Mattie could always count on in the past–seems to be holding something back from her.
Good Together is for anyone who has ever pondered what it means to be married. Or had to reinvent her life when one breaks down. It's about having your heart broken but being strong enough to survive and love again.
MY REVIEW:
This story has brought me to tears and I am only at 47% of it read. It reminds me how some fathers and mothers can be so callous in their actions. Here in this story he wants to get into the pants of the mother of his children, even ask to marry them, yet years will go by and something will trigger in their head that "Hey wow, somewhere I lost my youth. I am a father, provider, and/or husband. So, let me divorce, bail, shack up or disappear from the mother of my child, shaft her as I go, and neglect my children as I do it." Is that that what they ask themselves?
Wow, does that make them a man? Well, that is what Mattie Carrigan is asking herself right now. You see she has been married 19
½
years to her husband Wes, and she has just found out that he is planning on leaving her and selling all their horse from the horse ranch and selling the family ranch, where the breed and train Tennessee Walkers. Their ranch the Bishop Stables is a generational ranch which was supposed to be her twin college daughter's inheritance. Portia and Wren were thrown for a loop too because their dad was supposed to be home at Thanksgiving and when he didn't show that sent up many red flags. So, that left Mattie to tell the girls their fathers plans which sadden them since their dad had always told them that it would one day be theirs and to be proud of that and all that it meant.
Mattie doesn't even know that he has already tried to sell it to her friend and neighbor Nat Diamond. Which we'll have to see how that will play out since she is starting to trust him and find him attractive. He doesn't know about Wes latest stunt so we will have to see how it will all play out. Because Wes has broken all 3 of the most important women in his lives hearts.
"Asking a wife to be responsible for her husband's happiness was asking too much." For a lot of factors strain a relationship and for most wives it is out of their control. But it seems to always be that the guy needs to feel needed and after so long the wife's not new, the kids are off to college, and they all are going through some mid-life crisis that sends them into a tail spin. For Wes, Mattie knew it was Dex Cooper's death on the rodeo circuit but in what way?
One of her sisters put it this way about her husband Wes, "Wes is one of those cowboys whose eye light up when he's in the company of a beautiful woman. I wanted my sister to be with a man whose eye lit up only for her." That in the end is what every woman wants. This was a very good story. I give it 5 stars. Provided by Net Galley.
Find us at: www.1rad-readerreviews.com