ALEX: A COLD FURY HOCKEY SAWYER BENNETT
Posted: Nov. 24, 2014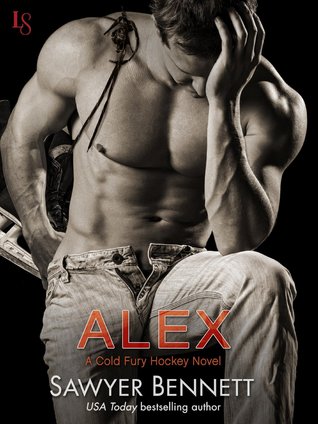 Hockey star Alexander Crossman has a reputation as a cold-hearted player on and off the rink. Pushed into the sport by an alcoholic father, Alex isn't afraid to give fans the proverbial middle finger, relishing his role as the MVP they love to hate. Management, however, isn't so amused. Now Alex has a choice: fix his public image through community service or ride the bench. But Alex refuses to be molded into the Carolina Cold Fury poster boy . . . not even by a tempting redhead with killer curves.
As a social worker, Sutton Price is accustomed to difficult people—like Alex, who's been assigned to help her create a drug-abuse awareness program for at-risk youth as part of the team's effort to clean up his image. What she doesn't expect is the arrogant smirk from his perfect lips to stir her most heated fantasies. But Sutton isn't one to cross professional boundaries—and besides, Alex doesn't do relationships . . . or does he? The more she sees behind Alex's bad-boy façade, the more Sutton craves the man she uncovers.
MY REVIEW:
This I have to say was an amazing story. If you have come from an out of control childhood or are living in a relationship that is…this story will hit some sore spots for sure. Yet, with such a sense of hope to know there is always hope for you and those living with their addiction. May take a few times to work and others may not at all.
This story is about Alex Crossman, mid-twenties, plays hockey for the Carolina Cold Fury, #67. Alex has a bit of an attitude problem as well as a real hate for his profession causing a disassociation with the team, the fans, and life in general. What no one knows is Alex's dad was not only his first coach but his constant abuser after his mother died. His father's drinking got out of control and he would verbally and physically abuse him.
Now that he's a pro, it makes no difference to his father. After every game he calls in a drunken stooper to tell him what he has done wrong and that he's worthless. He has really learned to hate hockey and life. He doesn't know how to take praise hence no friends on the team because no matter what they say he does not respond correctly to them.
Being a star player though he's the MVP= Most Valuable Prick in his case. The press and his fans have a field day with that one but as long as he is winning they put up with him but barely. So, management takes a stand. They send him to do volunteer work with a counselor at an At-Risk Anti-Drug Center which he would have done if they asked him but now that they are making him he is fighting it because they are making him. He is pissed because he will have to work closely with this guy and Alex thinks that "I will not make it easy for him." Because the guy will have to report back to management.
Except when he gets to the office he is running a half hour late. Which does not go good for him to begin with. He gets there and there is a pretty lady working at the desk. He gives his name, ask to see Sutton Price, and she ask him to have a seat. He says no and then ask her out. She says no. Then the real receptionist comes back and relieves the person sitting at the desk. When she stands and then turns to Alex and says, "Please follow me Mr. Crossman." He looks surprised to find out that she is in fact Sutton Price the one he is to work with. Which is not good since he was looking forward to trying to talk her into his bed. Sutton is 22 years old, a college graduate with a masters. She is already not impressed with his lack of consideration for others and their time when for their first meeting he's 30 minutes late.
They both need each other, her this is a chance to get ahead in the profession she loves, in a profession that means a great deal to her. To him it could mean his career. So they will need to work together or at least meet each other half way. She was attracted to him as he was to her. Sutton still sees him as a celebrity who is arrogant and thinks he's entitled. And Alex looks at her as the lady that holds his career in the palm of her hand. When he hands her the letter from the front office that is sealed, she reads it. Then hands it to him to read. It's the guidelines that have to be met by him or else. Then he sees it says, don't let him read it. He laughs within. She tells him she doesn't like to have to babysit him and that she would much rather he do what he is supposed to do. Meaning to get to appointments on time.
He has homework on this day but something Sutton says sets him off and he walks out. Not taking the homework with him. Sutton knows there is something deep rooted she has seen the signs before even in herself. You see Sutton comes from a dysfunctional background too so she herself has fought hard to overcome her demons.
Watch this couple as they dance through the mind-fields of their pasts. Only deal with some harshness in their present but they have to walk through it to get to their futures. Do they have it in them? The supporting characters are so interesting they keep you engaged. I give this 5 stars. Provided by Net Galley.
Follow us at: www.1rad-readerreviews.com