IT'S IN HIS KISS
JILL SHALVIS
Posted: Jan. 5, 2015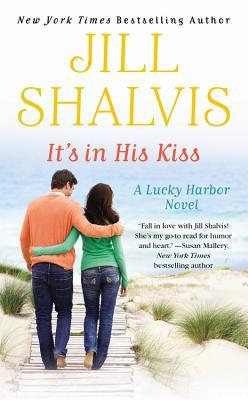 ONE KISS CAN LAST FOREVER
Becca Thorpe has uprooted her life and escaped to the beach. Now's her chance to get away from city living, throw caution to the ocean winds, and live in the moment. Especially if the moment includes the deliciously sexy surfer she meets shortly after arriving in Lucky Harbor. Something about the dark intensity of Sam's eyes and the thrill she gets at his touch convinces her to stay awhile.
Boatbuilder and investment genius Sam Brody is a self-made man who knows how dangerous it can be to mix business and pleasure. But he can't resist offering Becca a job just to hear her laugh and have her near. Yet when her brother comes to town asking for help, will he tempt her back to her glamorous life in the city? Or do Sam and little Lucky Harbor have a chance to win Becca's heart?
MY REVIEW:
If love means people relying heavily on you or each other, and you couldn't necessarily rely on them back then what? You see Sam Brody is a man who was used to caring for his scheming alcoholic father. At the age of ten he was already caring for the meager household budget.
When his father got arrested the first time you could say it was his worst and best time ever. The reason being because he was sent to a foster home in Lucky Harbor a two hour drive from Seattle. With the Donovan family was a big family. The treated him like one of their own. He made a friend in Cole his foster brother and only boy in family of three girls, Cole being the youngest. Cole's mom Amelia made sure every time his dad got picked up she went to pick up Sam every time driving those two hours one way. At 18, he went to work on an oil rig to earn good pay he had dreams along with Cole and Tanner another friend from high school.
The dreams was one day the three of them would own a charter boat service in Lucky Harbor. That dream was almost dashed when a fire on the rig killed Gil the fourth man that planned on joining the venture that they had met on the rig and they all three instantly liked, not to mention Tanner's leg was severally injured in the fire. Respect for Gil's memory they had them continuing with the dream. Sam being the portfolio investor for the group was investing their savings and making a profit. They had more than enough so they all came back home and never went back to the rig.
One day coming in from an evening surf he spots a woman eating popcorn with her toes deep in the sand. They nod at each other and he keeps walking. Yet, his feeling a spark he hadn't felt in years. Later, as he is working on the current boat he is building she enters his work space where everyone and I mean everyone knows not to go. He's using an electric plainer and chooses not to speak to her. So, she being a city girl unplugs the plainer and tells him she's Becca Thorpe and what warehouse number she's looking for. Reluctantly he tells her. He tells her not to expect much it's a dump. Which gives her pause but she has no other choice. She says thanks and leaves.
He wasn't fooled though he could tell she was giving off more badass than she really has. There was just a hint of something there in her eyes but she guarded it too fast for him to know. He tries to shake it but he can't.
Then, after a late night run a couple of days later he teases her about being the "peeper." Then he asks her what she's doing out near the water by herself in her PJ'? She says just thinking. She ask him does he always run full out. She knows he does because she can see him/them from her window. One kiss later and the flame is lit for them both. One, two, three you belong to me but do they? Their hearts are holding tight to secrets and hurts. Can they share them and let them go?
Yet, Becca needed a job and the guys needed a front office person. So, that for Sam was a deal breaker for sleeping together. Dating kinda was okay but not sleeping with her again. Becca was running from her own issues and family, stop by and see what happens at Lucky Harbor Charters. Laugh a lot as you see where Becca and Sam go with this relationship. Can either learn to trust or are they doomed?
I loved, loved, loved the characters in this book. Sam, Cole, and Tanner are a wonderful combo of sexy comedy. The relationship that forms is baby steps between Becca and Sam is amazing, yet her relationship with the towns people and Sam's BFF's, dad, and the towns people is endearing.
I give this book 5 stars. Provided by Net Galley.
Follow us at: www.1rad-readerreviews.com