A DECEMBER BRIDE
DENISE HUNTER
Posted: Feb. 26, 2015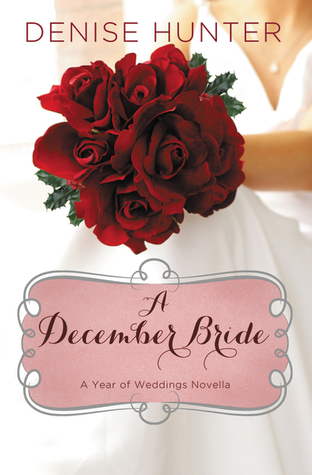 What started as a whim turned into an accidental - and very public - engagement. Can Layla and Seth keep up the facade in Chapel Springs this holiday season - for the sake of her career . . . and his heart?

Under normal circumstances, Seth Murphy, the best friend of Layla O'Reilly's ex-fiance would be the last person she'd marry. But the news of their upcoming (and phony) nuptials convinces a big client that Layla may be high-society enough to work for his agency, a coup that would put her fledgling home-staging business on the map. Seth has secretly loved Layla for years, even when she was dating his best friend. Maybe she'll never forgive him for the way he hurt her back then, but he has to try. And Layla is willing to keep up their engagement farce until she's landed her client. For Layla, it's the chance to save her career. But for Seth, it's his last chance to win her heart.
MY REVIEW:
How do you ever recover from a betrayal? One is bad enough but three all in one failed swoop? Well, that is exactly what Layla O'Reilly has had to live with. You see her back stabbing Cousin Jessica used and now is marrying her ex-boyfriend Jack. If that was not bad enough one of her best guy friends that she knew before Jack not knowing put them in the same path and then when the affair was going on didn't warn her. (Although states he was clueless.)
The thing about it is that Seth Murphy has had a never ending crush on Layla. So, when the breakup happened Jack got Seth, man coded.
Jessica is her cousin and already thinks she's better than Jessica for stealing her man. Layla has to go to the wedding since her whole family will be there. The way she see's it arriving on the arm of a good looking man and showing Jack that she has moved on is the best revenge ever. So, a friend of the family, her brother's was going to take her. Until 5 hours before the wedding when Cooper calls and says he's got strep and is running 102* fever. She's sunk.
In walks Seth and happens to sit at her station. Not know she still worked there. She waits on him long story short he's going alone and it's starting to snow and he offers to take her. With a look of contempt she says yes. Which only adds to the evening. It only gets better as people start to think they are a couple but especially the bride and groom.
Very cute story. Short, enjoyable story line and characters keep you engaged. I give this 5 starts. Provided by Net Galley. Follow us at: www.1rad-readerreviews.com