THE PERFECT HOMECOMING
JULIA LONDON
Posted: Feb. 26, 2015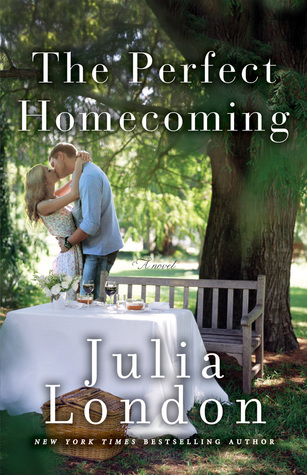 Emma Tyler's cool exterior and penchant for sarcasm keep most people from getting too close…and an unusual compulsion drives her to steal from the few men who do. When her trophy-collecting habit goes too far, she quits her ritzy event-planning job in Los Angeles and runs away to Pine River, hiding with her estranged half-sisters at Homecoming Ranch and caring for Leo Kendrick, her ailing friend.
Thrillseekers Anonymous founder Cooper Jessup has his hands full with work and his brother's looming prison release date. But when a client asks him to track down Emma Tyler to retrieve a stolen memento, Cooper can't turn down the money…or the chance to see the beautiful Emma again.
When Cooper comes to collect the item, Emma refuses to admit the horrible truth. This handsome man may see right through her steely veneer, but can he get close enough to show her how love and honesty can heal a troubled heart?
MY REVIEW:
The things we do when we are trying to make a connection. We will give or some may say sell a piece of our souls just to feel a sense of warmth, connection, or belonging. Emma Tyler just took it one step further. She figured she gave you a piece of herself so it was only right she took a piece of you. Like a cuff link, a silk tie, engraved pen, a marathon medal, a military medal, or a tie clip.
It was one of those items that was going to make Emma take an extremely hard look at the reason at why she does it. Not to mention the men she took them from. She's missing something she knows it. People over and over keep telling her how beautiful she is but that she has no tack or good graces with people.
The thing is she never means to hurt anyone's feelings at all. She just doesn't have an edit button. Never ask what she thinks unless you really want to know. The thing is she has the rep in Hollywood as the girl that sleeps around. Especially, with married men. So when she once again runs into Cooper Jessup at a bat mitzvah that CEM party planning is putting on she got nervous. He more or less asked her out for a drink after the event. She is not use to men who are available, attainable, or close to her age.
From that night on an uneasiness comes over her and she quits her job. Goes to Colorado to stay at the ranch she owns a third of with her two stepsisters, Madeline and Libby.
She's there about two weeks when Cooper shows up on her door step as she is leaving for work. She panics because she has not seen him in a year. She knows him being at the ranch can't be good. When he wants to talk about an item that a client says that she has she says she can't, she is on her way to work. Then leaves him standing on the front porch with her sisters.
Why can't she just hand it over? What causes her to hold back? Cooper shows up at where she volunteering her time caring for Leo Kendrick's a young man who has no use of his limbs. She likes it because Leo is a lot like her no nonsense, it is what it is. His dad Bob doesn't like or trust her. She's okay with that because her whole like no one ever has. And most of all because they both need her.
I think Leo's character steals your heart right off the bat. He is just too funny in an obnoxious kind of way. This had to be one of the most poignant, genuine, and dignified stories of a person with a fatal disease. I do have to say it does feel like there should be another book to finish off some loose ends. So worth the read. I give this 5 stars. Provided by Net Galley. Follow us at: www.1rad-readerreviews.com