WHEN THINGS GO WRONG
LACEY SILKS
Posted: April 12, 2015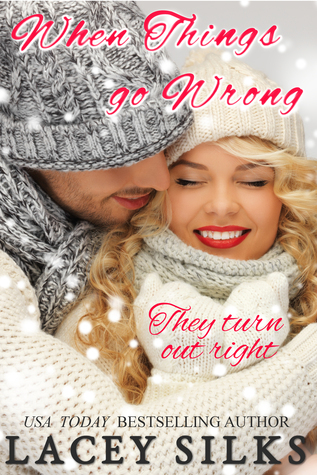 Lazy eyes, scarred lip and brow, muscled and tattooed, Julia's high school best friend, the one who made her heart go pitter-patter, had definitely changed in the past five years she hadn't seen him.

Being stuck with her mom and boyfriend number one hundred at an exclusive ski resort doesn't seem as daunting when Julia runs into the gorgeous and enticing Scar Wagner. And when fate forces the couple much closer than Julia would ever allow a man to be, she can't help but wonder whether it's time to give relationships another try.

After all, when things go wrong, they turn out right.
MY REVIEW:
OMG! This was a really good short story. Had all the elements you could want in the old friend who could or would want to be more. It had been 5 years since Julie Blakely and Scar Wagner had seen each other. It was the end of their senior year when she had moved away from New York when her parents divorced.
You see they became "weed buddies" their senior year when trying to deal with their parents affairs. For Scar he was one of 5 children but the product of his father's affair so doesn't believe that relationships can ever be solid. Jules also didn't believe in lasting love once finding out her father was an endless cheater. So, the two made a pack never to date or marry because someone in a relationship would always going to cheat. Scar went out to prove his theory correct so Jules could see first-hand, going for longtime relationships and watching them crumble.
When they bump into each other on this trip neither are kids anymore and both can see each other through appreciative eyes. They spend an evening catching up and the next day skiing the unthinkable happens.
I really enjoyed this author's style of writing this was a novella if anything in length. I would hate to think this writer will be breaking up this whole continued storyline into sections to sell. Since this was only 30 pages or so. The characters however in this story blend well together. The anticipation with what will be said or what they will do next is so worth the read alone. I give this 5 stars. Provided by Net Galley.
Follow us at: www.1rad-readerreviews.com