IRRESISTIBLE FORCE
D.D. AYRES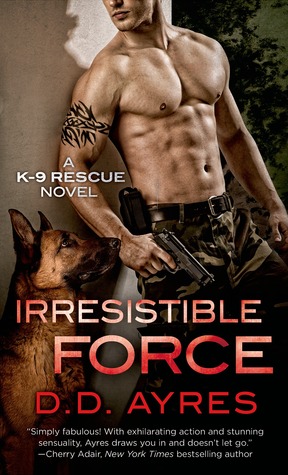 When adrenaline runs high, so does the force of desire…
For Shay Appleton, it's love at first sight when a gorgeous stray dog is brought into the animal shelter where she works. She just knows he'll make a terrific watch dog—and with an abusive ex who won't let go, she needs all the protection she can get. But Shay never suspected that her new pet is actually a trained police K-9 named Bogart—until Bogart's even more gorgeous, human partner shows up on her doorstep.
Officer James Cannon is one tall, strong alpha male who's convinced that Shay stole his dog. But once he gets closer to the suspect, he realizes that this stubborn, independent woman not only needs a guard dog, she needs James as well. It seems that someone from her past is stalking her, and threatening her life. When danger meets desire, will James risk his career and his best friend…to protect the woman who's stolen his heart?
HUBBY'S REVIEW:
James Cannon is a K-9 officer and is looking for his partner who is lost. On a tip he is following up on he is outside of a cabin when he spots a women being confronted by a man and then a dog comes out and protects her and he realizes that is his lost dog. After the man leaves he goes and confronts the woman Shay Appleton and accuses her of stealing a police dog and she calls the police which sets into motion how the dog became into her possession. He realizes that she saved his partner and that his dog has grown attracted to her. They have a rough night and she asks him to leave which he does but he knows that there is more to her story and the man in truck from earlier. When he gets back to his station he has to go through training again and he asks one of his friends to run a background check on Shay. He also finds out that his ex was the one who took his dog to a shelter to have him put down and was going to after her. When he finds somethings about Shay he wants to get to know her better but she has trust issues with men from the past and from a current situation. She finds out though that James is not like other people she has told her story to and that starts to give her confidence to face the situation she is in head on. With his support they tackle things together which she never had before and her boss also gives his support. This is more than a love story it is about a women Shay who never had anyone in her corner to fight for her including her mother and she finally finds someone who hears her voice. A very good book. I got this book from net galley. I give this 5 stars.